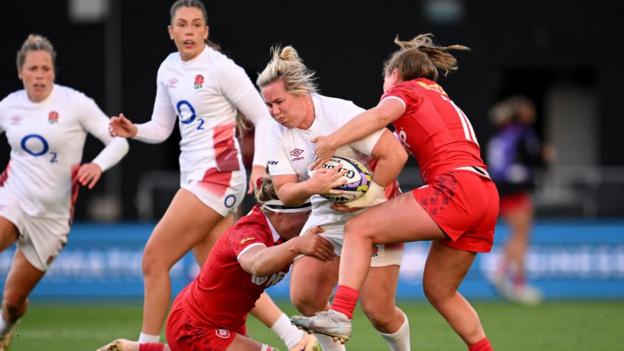 WXV crowds "need to and will grow", says World Rugby's director of women's rugby Sally Horrox.
The WXV is a new annual three-tier global tournament which launched in October.
Sparse crowds have been highlighted with England captain Marlie Packer calling the supporter turnout "disappointing".
"There is a degree of introducing the competition to the public," Horrox told BBC Sport.
"I have every confidence there, I can see the appetite is there.
"The fan base needs to grow – it will grow, it will evolve in time. This is is the first time this competition has come to town."
The three tiers of competition are being held in three different locations with WVX1 in New Zealand, WXV2 in South Africa and WXV3 in Dubai.
Horrox added WXV1 has seen 8,000-10,000 supporters over a weekend. Three games are played across a single weekend during the three-week competition.
She added: "As we evolve the competition, [we will have] more certainty, more long term planning so people know more about it and [will have] more advanced notice."
All three tiers of the inaugural WXV started while the men's Rugby World Cup was being played, with WXV2 and WXV3 both finishing on the same day as the men's final.
Horrox said it "wasn't possible" this time to move the competition to avoid clashing with the men's game but in future they will not be played at the same time.
"It will be in the global window but we will not put it up against a men's Rugby World Cup in the future," she said.
WXV1 will conclude on Saturday with France taking on Canada (03:00 GMT) and England facing New Zealand (06:00).