It's been five years since Bradley Cooper brought his last movie to Venice. His appearance on the Lido alongside Lady Gaga was the epitome of Hollywood glamour. The pair arrived by boat, held hands on the red carpet, and – in a packed out press conference – discussed their mutual adoration. A thousand headlines wrote themselves.
But when Cooper's directorial follow-up, the Leonard Bernstein biopic Maestro, premieres at Venice this week, the actor and film-maker won't be present to take pictures, sign autographs or answer questions about the "Jewface" controversy that's preceded the film's release. His co-star Carey Mulligan won't be around either.
It's safe to say the oldest film festival in the world, traditionally a launchpad for the Oscars, has been robbed of some of its glitz this year. Due to the ongoing actors' and writers' strike that's brought Hollywood to a standstill, stars are prohibited from promoting their films including on the red carpet and in interviews.
As rainstorms continued to pummel the Lido on Wednesday, organisers remained hopeful that the strong line-up, including Sofia Coppola's Priscilla, David Fincher's The Killer, Ava DuVernay's Origin and Yorgos Lanthimos's Poor Things would help mitigate dampened moods. Only one film, Luca Guadagnino's festival opener Challengers, was pulled and replaced by Italian second world war drama Comandante, directed by Edoardo De Angelis.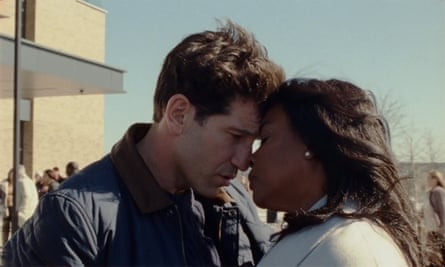 But gossip continued to centre on which films would receive waivers from the actors union Sag-Aftra, which has been battling the Alliance of Motion Picture and Television Producers [AMPTP] over residuals and the increasing threat of AI.
There was even momentary excitement when Cooper himself was papped in Venice, before it was confirmed that he was merely in town to tech check his movie. Adam Driver – who stars in Michael Mann's Ferrari – is expected to jet in and out after the film received an exemption for being made outside the major studio system. But there is such nervousness in the industry over being seen to cross the picket line that Driver reportedly won't stay the night and plans to wear a union T-shirt under his tuxedo.
At the festival's opening press conference, members of the competition jury, including the directors Damien Chazelle, Martin McDonagh and Laura Poitras, also wore T-shirts that boldly stated: "Writers Guild on Strike!"
"Today is the 121st day that the writers in Hollywood have been on strike and 48th day that the actors have been on strike," said Chazelle, director of La La Land and president of the jury awarding the top Golden Lion prize. "There's a basic idea that each work of art has value unto itself, it's not just a piece of content to be put into a pipeline. That idea, of how art can be made sustainable, has been eroded.
"To me that's the core issue, that's where the debate about residuals come from. It's about people being remunerated for each piece of art. It's about art over content."
Many colleagues, Chazelle added, would have loved to be at the festival but could not attend. "It's a very hard time in Hollywood for everyone affected by the standstill. We wanted some way to acknowledge that," he said.
In addition to Driver, other A-listers expected at the festival include Jessica Chastain, Mads Mikkelsen, Léa Seydoux, Cailee Spaeny and Jacob Elordi. Festival director Alberto Barbera conceded that "the impact of the actor's strike will be felt, because of course some very important actors will be missing", but emphasised the situation was not as bad as it had seemed as first.
But with less star gossip, attention risks being absorbed by the inclusion of new films by Roman Polanski and Woody Allen in this year's line-up. Polanski, 90, remains a fugitive from the US over a conviction for statutory rape in the 1970s. The victim has long since forgiven him but he faces other assault allegations which he denies. Allen, 87, was twice investigated by social services for an alleged assault on his adopted daughter and cleared. But he has been effectively blackballed by Hollywood.
"The history of art is full of artists who were criminals, and we nonetheless continue to admire their work," Barbera said of Polanksi. Allen, he added, had "been completely absolved" and continuing hostility towards him was "absolutely incomprehensible".
But neither the strikes, controversy nor rain put off the handful of hardened cinema buffs that had already begun camping alongside the red carpet in the morning.
"We're here to see directors like Chazelle, McDonagh and Poitras," Martina Semperboni, 19, told the Guardian. "As a fan, I'm disappointed about the strikes, but as someone who hopes to work in the film industry in the future, I know what they're trying to say is fundamental."
"I'm here because of the atmosphere, the people, and the passion for cinema," added Oscar Brega, 21, who had travelled from Milan. "It will definitely be different this year. I would have loved if many actors had come, such as Emma Stone, but I think the strike is very important. Something was moving in the wrong direction and people are fighting it."
Plus, Brega said, there was such a thing as too much star power. "Sometimes, when there are big stars like Timothée Chalamet and Harry Styles last year, it can get too busy and confusing."