Kennedy, Sinatra and the Mafia
9pm, Channel 4
Love triangles, bootlegging pasts – this juicy feature documentary shows how the friendship between Frank Sinatra and John F Kennedy (who was assassinated 60 years ago this month) helped the latter on his presidential campaign. Along with archive footage, it features interviews with experts and insiders, including Sinatra biographers James Kaplan and Helen O'Donnell, and the daughter of Kennedy's right-hand man Kenneth O'Donnell. Hollie Richardson
Strictly Come Dancing
7.05pm, BBC One
It's the halfway point, and Zara and Graziano are gone after failing to thrill with last week's Halloween charleston. Ellie and Vito performed the dance of the night, but will they be able to match it with their American smooth to a Robbie Williams take on a swing classic? HR
Survivor
8.30pm, BBC One
Two tribes continue to go to war in the revived reality series, with each one minus a member after the Tribal Council elimination votes so far. Now that Caletón have finally won a challenge against La Nena, who will be the next to leave? This week's tasks include one that requires the quickest thinker, and there's a game-changing twist. HR
The Voice UK
8.35pm, ITV1
It's the soundtrack to a predictable Saturday night in, with company from kindly coaches Anne-Marie, Olly Murs, Tom Jones and will.i.am. But this year's competition has new rules: groups are now allowed to audition, which should shake things up. Will the next One Direction or Diva Fever emerge from this change? Hannah Verdier
Dark Hearts
9pm, BBC Four
The French action thriller draws to a close with this double bill in which Martin's elite special forces unit attempt to extract their high-value target. At this point in the mission, cooperation is more vital than ever, but while Martin and Sab build trust, Spit grows more isolated. Ellen E Jones
Later … With Jools Holland
10.25pm, BBC Two
Another eclectic mix of the old and the new, the marginal and the mainstream this week. South London rapper and producer Sampha is joined by the scouse Kraftwerk Orchestral Manoeuvres in the Dark, rising London soul artist Izo FitzRoy and blues wailer Christone "Kingfish" Ingram. A heady brew. Phil Harrison
Film choice
Fingernails, Apple TV+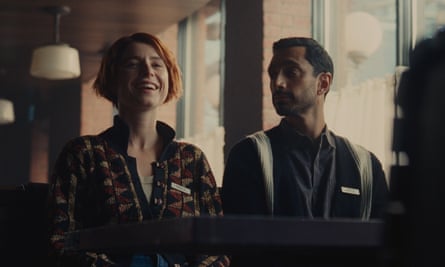 The strand of surreal Greek film-making that gave us The Favourite's Yorgos Lanthimos has another acolyte in Christos Nikou. In his weird but very human new drama, Jessie Buckley's Anna gets a job at the Love Institute, which can scientifically prove whether couples are in love or not by testing a fingernail and offers classes to improve their chances. Her mentor is Amir (Riz Ahmed) with whom she becomes close, despite being officially in love with Ryan (Jeremy Allen White). The film has fun with the absurdity of formalising emotions, while in the sensitive hands of Buckley and Ahmed the odd scenario seems almost believable. Simon Wardell
Quiz Lady, Disney+
The sparky pairing of Awkwafina and Sandra Oh gives Jessica Yu's comedy the oomph it needs to surmount the plot's more obvious twists. Anne (Awkwafina) is the introverted office drone who can answer all the questions on her favourite TV quizshow Can't Stop the Quiz. Jenny (Oh) is her extroverted, impetuous older sister, who pushes the reluctant Anne to become a contestant. Naturally, their time together proves a bonding experience, but Will Ferrell's host and Jason Schwartzman's long-running quiz champion keep it zesty. SW
Sly, Netflix
That's Stallone not Stone – sadly for soul music types but happily for fans of musclebound action drama. How a kid from Hell's Kitchen with a violent, jealous father won an Oscar then helmed three major movie franchises is a fascinating tale, and director Thom Zimny dutifully takes us through the crux points in this documentary. What's most interesting is how Stallone wrote himself into a career (with Rocky) and then worked through his personal issues – fathers and sons, failure and redemption – in his movies, many of which he had a hand in penning. SW
Live sport
Cricket World Cup: England v Australia, 8am, Sky Sports Main Event England v Netherlands is on Wednesday at 8am.
Women's Rugby League: England v Wales, 11.30am, BBC Two From Headingley Rugby Stadium.
Men's Rugby League: England v Tonga, 2pm, BBC One The final Test from Headingley.
Premier League Football: Newcastle v Arsenal, 5pm, Sky Sports Main Event Preceded by Fulham v Man United at 11am on TNT Sports 1.
FA Cup Football: Bromley v Blackpool, 5.30pm, BBC Two On Sunday it is Chesterfield v Portsmouth at 11.30am on ITV1 and Charlton v Cray Valley Paper Mills at 5.15pm on BBC Two.
Copa Libertadores Football: Boca Juniors v Fluminense, 7.50pm, BBC Three The showpiece match in South America's elite club competition.