Milwaukee
CNN
 — 

There was a Halloween haunted house to plan. Finding days on the fall calendar for neighborhood cleanup projects. A big report on criminal justice issues to finish.
Veteran organizer Angela Lang was more than busy.
But as she gave her neighborhood canvassing teams a morning pep talk recently, Lang made clear every door knock now is a critical building block for the election in November 2024.
"You all know that there is no way to win a statewide election that doesn't run through you all, right?" said Lang, the founder and executive director of the Milwaukee group BLOC – Black Leaders Organizing for Communities.
"There is no way to win a statewide election that doesn't run through the Black community," Lang reminded nearly two dozen BLOC organizers about to hit the pavement. "Understanding the dynamics that Wisconsin is an incredible battleground state and is a swing state. What happens in Milwaukee can impact the rest of the state, which ultimately can impact the rest of the country."
"No pressure."
The pressure, of course, is enormous. Wisconsin is one of the battleground states that settles close presidential elections and Black turnout in Milwaukee is a pivotal piece of any Democratic path to victory. CNN recently visited Milwaukee as part of a new project designed to track the 2024 campaign through the eyes and experiences of voters in key areas. It was clear from three days spent in the predominantly Black neighborhoods on the city's north side that President Joe Biden faces a daunting enthusiasm problem among voters essential to his reelection hopes.
Wisconsin swung from Donald Trump in 2016 to Biden in 2020, and with the former president the front-runner for the GOP nomination in 2024, the Badger State could again be forced to choose between the two men. Trump won it by just shy of 23,000 votes – and a drop in Milwaukee's Black turnout was a major factor. Biden carried the state by just shy of 21,000 votes four years later, when better showings in Madison and the suburbs helped offset flat turnout in Milwaukee's Black precincts.
Before hitting the streets, the roughly two dozen BLOC organizers in the morning meeting were asked to share what they were learning from calls, texts and emails from local residents.
Police violence against Black youth is a constant complaint. But worries about crime are on the rise too, and some residents want more police walking beats, not just responding to calls. Good-paying jobs are hard to find. Speed bumps are not doing enough to slow traffic in residential neighborhoods. The schools are not what they used to be.
And there is lots of this: "Most people don't even want to go vote," Shanice Jones told the room. She said people tell her over and over they are tired of promises made but not kept. "Then they talk about on the news how it was less voter turnout. Uh, duh. Why? Because you all ain't doing what you said you were going to do."
Another BLOC organizer, 21-year-old Devonta Johnson, echoed that bleak assessment.
"People don't want to answer their doors," he told us. "They don't feel like a change is going to happen."
The mood a year from now will affect the president's reelection odds more than the present mood. But would the president have a Black turnout problem if the election were today?
"Yes, he would," Johnson told us. "He would have a big problem."
A couple of hours with the BLOC canvassers backed up that assertion, as did interviews in both Milwaukee's inner city and along its suburban edge.
When organizer Dez Woods tried to turn a doorway conversation to next year's election calendar, she was interrupted.
"I don't talk about the elections," said the woman inside. "They can't do nothing. So there ain't no use to me trying to do."
Woods is trained to keep trying.
"So, are you not a voter?" she asked.
"Yeah, I vote," the woman answered. "But it is when I want to, and, right now, I don't want to."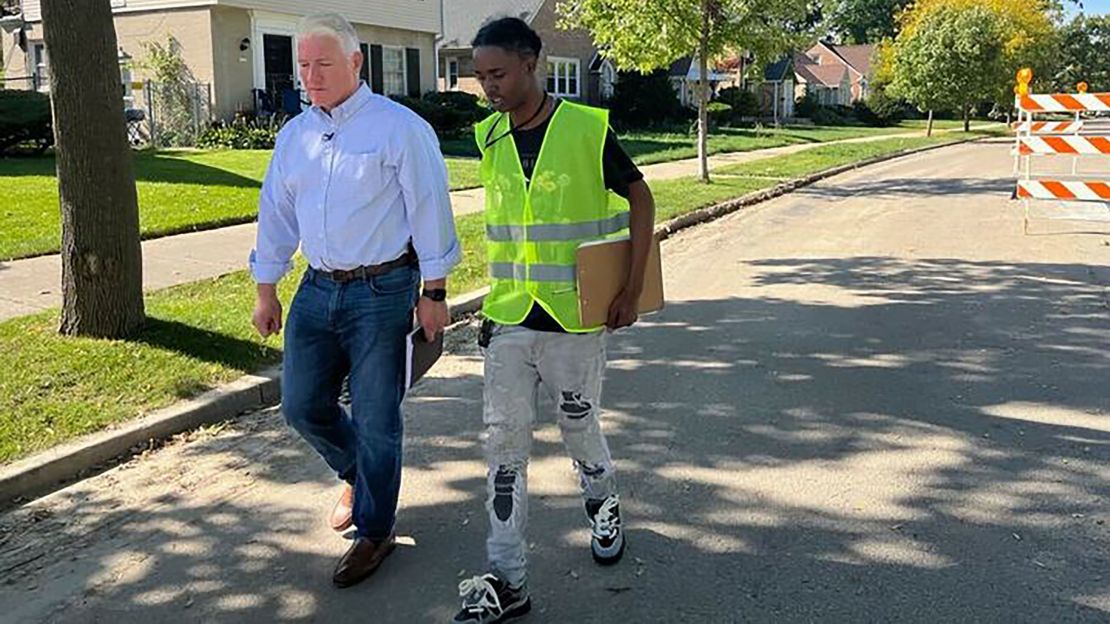 Black voters want to see more of Biden – and Harris

The Biden campaign is aware of the problem.
It recently launched new – and very early – television and radio advertising buys to shore up its standing among Black voters, and Milwaukee is one of the target markets.
Plus, money from the bipartisan infrastructure law signed by Biden is being targeted to help clean up toxins at an old industrial site in a Black neighborhood. In August, the president visited a wind turbine manufacturer in Milwaukee that plans to tap clean energy funding to build electrical vehicle chargers.
There is time. But veteran activists like Lang want much more from the president and his campaign.
"All these candidates come by and sell us these promises," she said in an interview. "You know, say, you got to vote for me to save democracy. And then we don't always see them again. And so, folks get more and more turned off from the political process."
Missing from the new Biden ads is an issue raised often in the overwhelmingly Black neighborhoods on Milwaukee's northern edge.
"People are wondering: What is he doing in terms of police accountability and criminal justice reform?" Lang said. "That is a big issue in our community."
The Biden campaign projects confidence it has a plan to mobilize Black voters, though its take conflicts in important ways from what we saw and heard on the ground.
A campaign official said the team was building an organization that doesn't "drop in" on Black voters but puts in long-term investments to mobilize the community. The official pointed to outreach efforts, including a pilot program launched by the campaign and the Democratic National Committee this month in Wisconsin and Arizona focused on outreach to key groups, including African Americans and Latinos.
"Joe Biden knows the power and importance of Black voters – they were essential to his and Kamala Harris' victory in 2020. Democrats are committed to earning every vote from now until the general election, and we aren't taking a single community for granted – we're making early investments, including the earliest-ever paid investment in Black radio for a Democratic re-election effort, to make sure voters know how President Biden has been delivering for them," DNC national press secretary Sarafina Chitika said in a statement.
Lang, however, told CNN on Wednesday that she "hadn't heard much" from any Biden or DNC field organizers but that a GOP organization recently had canvassers going door to door in Black neighborhoods.
Issues aside, Lang said it is critical the 2024 campaign gets back to basics.
"People always want to see people actually paying attention," she said. "And sometimes that means being able to physically be here and engage. … With the pandemic, he couldn't hold the big rallies, to have the roundtable in-person discussions. The big thing with our community, like, I think, many others, is that folks want to be heard, and I think that's step one."
Wanting to see more of Vice President Kamala Harris is also something we heard often, in conversations both in the inner city and at the Embody Yoga studio in the tiny Milwaukee suburb of Glendale.
"I was really excited to have a vice president that was a woman, who identified as a Black woman," said Joanna Brooks, the studio owner. "I'm not sure she is being put to the best use right now. … I would love to see more of her. I have the feeling that she is under wraps a little bit."
Brooks graded the Biden presidency a 7 out of 10 and smiled as she conceded, "I say that only because I'm a Democrat."
She turned more serious and sober discussing the election stakes – and Wisconsin's outsize role.
Brooks worries Trump could carry Wisconsin again and recreate his 2016 electoral map. The role of three Trump-appointed Supreme Court picks in the reversal of Roe v. Wade motivates her to vote in 2024, as do constant attacks on democracy and voting rights from Trump and his allies.
"I grew up almost certain that my rights were guaranteed," Brooks said in an interview before leading a hot yoga class at her studio. "I took it for granted. And now, as I sit and watch the work of so many Black folks during the civil rights movement, so many women who fought for women's rights – when I see all of their work slowly being undone, that was a wake-up call for me for sure. So we have to fight."
Like many here, Brooks said despite Black voters being "pretty loyal to the Democratic Party," promises to the Black community seem to go by the wayside first. "Sometimes I wonder, just based on how that party has performed thus far for people of color, if we should continue to be" so loyal, Brooks said.
But given the GOP attacks on voting and abortion rights, Brooks said 2024 is not the cycle for that accountability conversation. "The Republican Party would never be an option for me, especially where they sit right now," she said.
Nor is she likely, this cycle, to consider an independent or third-party candidate like Cornel West because she knows even slightly lower turnout or modest defections among Black voters could tip Wisconsin to Republicans. "I don't know if I am willing to take the risk," Brooks said.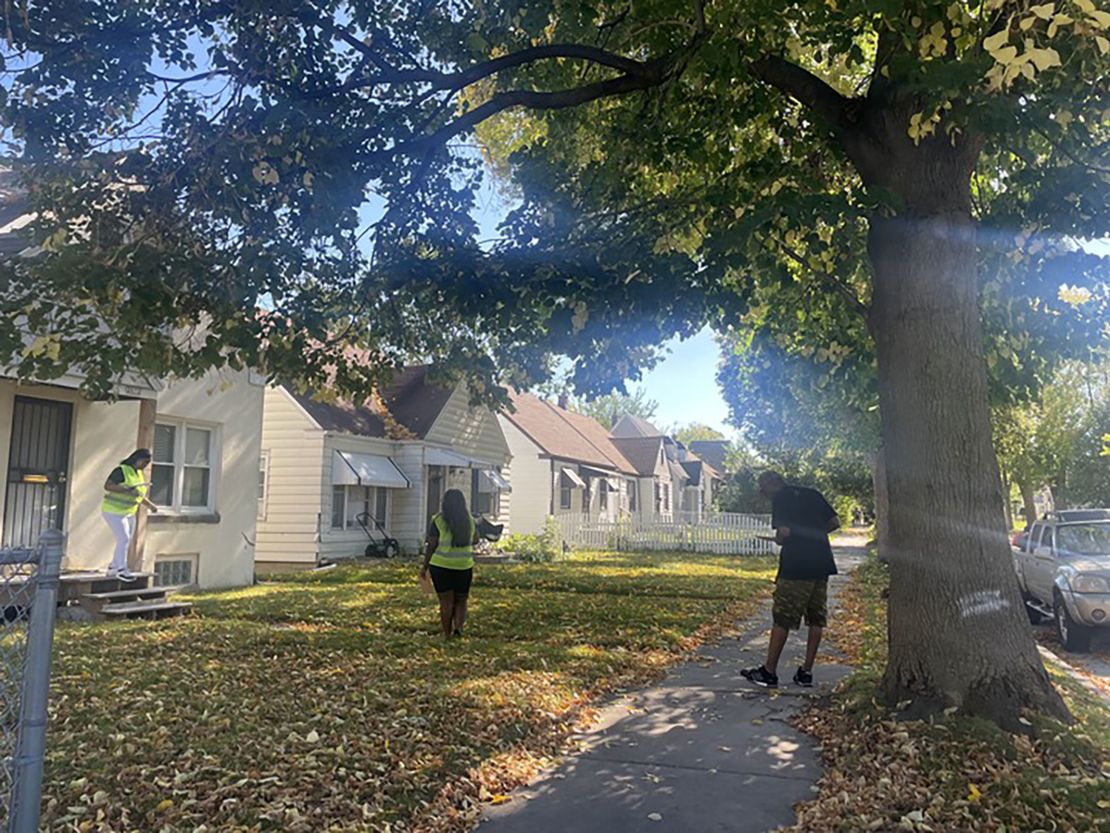 The threat of a Trump return – and overreliance on that possibility

Like Brooks, longtime Democratic activist Davette Baker would like to see more of Harris. Baker graded the Biden presidency just a 4 out of 10 but qualified that with an acknowledgment that gridlock in Congress has hamstrung his efforts on criminal justice reform and other issues important to her.
"Joe Biden is, I mean, he's doing the best with what he has," Baker said.
She worked in Democratic campaigns for years but cannot on a full-time basis this cycle because she is being treated for pulmonary hypertension.
Like Brooks, Baker sees the threat of Trump's return as a vehicle to motivate Black voters who might have issues with Biden or just feel that voting does not matter because they believe their community will be ignored no matter who wins.
But she said she is worried enthusiasm in the Black community could be an even more severe problem if Republicans nominate someone other than Trump.
"I think they might stay home, and that worries me," Baker said.
Entrepreneur Eric Jones warned against betting that Trump's presence on the ballot would solve Democratic enthusiasm issues in Milwaukee's Black neighborhoods.
"I get people saying they are not going to vote," Jones said. "That's my fear. That they see those two, and they are going to say, 'Screw it. We're damned anyways.'"
We met Jones at the Bronzeville Collective, a storefront where several local Black artists sell their products. It is a bright spot in an urban stretch that feels long forgotten. The artists who sell clothes, jewelry and art inside had just celebrated the collective's fifth anniversary.
Jones came to support them because it is a success story for those looking to draw more investment to a once-thriving Black middle-class enclave now stained by a reputation for high crime and incarceration rates.
"The people in Milwaukee are doing the work," he said. "They're getting to it and changing their city for the better."
Jones dabbles in music and real estate, after studying political science at the University of Wisconsin-Milwaukee. His studies, Jones said, give him an appreciation of Biden's difficulties navigating a polarized Washington, especially now with the House in GOP hands.
Still, Jones said, bigger, more visible signs of economic progress are needed.
"You bring opportunities, you bring jobs, you get votes," he said. "Plain and simple."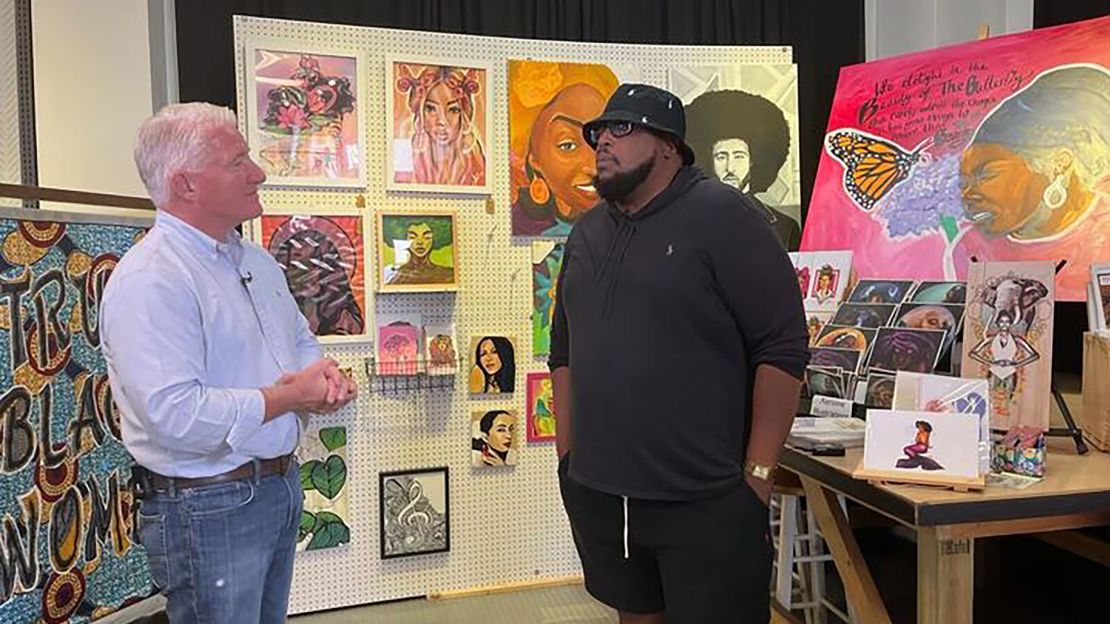 The need for more jobs – more hope – is visible in the north side of Milwaukee neighborhoods that consistently rank near the top of the nation's most segregated ZIP codes.
Devonta Johnson said it is what motivates him to be a BLOC organizer, even though many people will not answer his knock and, of those who do, many complain their block was cleaner and safer not too long ago.
"I did it to better the Black community and the people that are in poverty in the community," Johnson said. To those who say politicians do not keep their word, so why bother, Johnson said giving up won't solve anything.
"It all got to start somewhere," Johnson said. "You know, every person, every vote counts."
Johnson has an infectious smile, endless energy and clear love of his community and his 1-year-old daughter.
His presence makes a difference among those who answer his knock.
One woman thanked him "because when we see our Black youth, we look at you all as dangerous. We don't even look at you all as our future and that is so sad."
Another let out an audible groan when Johnson brought up the 2024 elections.
"It's like a joke in front of us right now," the woman said. But she then mentioned the civil rights movement and said voting, "even if we think it is a bunch of crap," is critical because "a lot of people died for us to get here."
Johnson thanked the woman for her time and commitment because so many people, he said, "act like they don't want to be bothered."
At just 21, Johnson is a foot soldier for democracy in one of its pivotal battlegrounds.
And he is also evidence of Biden's struggles with Black voters.
With a nervous laugh, Johnson told us during a break in canvassing that he did not vote for Biden in 2020, casting his first vote for president and vice president instead for the Libertarian ticket.
As for next November, Johnson describes himself as "wide open."
We noted that the major-party candidates might be Biden and Trump again, with third-party options possibly including West.
"Need a change, a big change," Johnson said. "I've just got to … pay close attention to them and see what they are really trying to do and if they are for real about it."