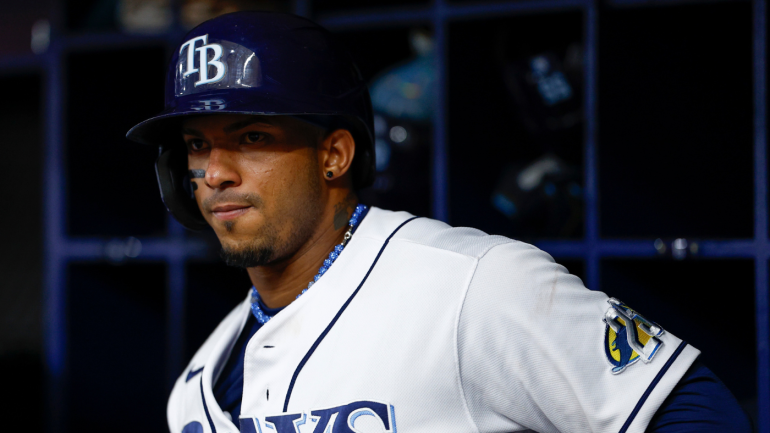 Getty Images
Tampa Bay Rays shortstop Wander Franco is being investigated by a special prosecutor in the Dominican Republic after a second formal complaint was filed against him for allegedly engaging in a relationship with a minor, ESPN's Juan Recio reports. In all, accusations from three different girls are being looked into by authorities in Franco's native Dominican Republic. 
On Aug. 15, the Associated Press reported that Dominican Republic authorities are investigating Franco for a different and initial alleged relationship with a minor. The report was confirmed by the office of the attorney general. Ángel Darío Tejeda Fabal, a prosecutor in the Dominican Republic province of Peravia, later told the AP that an investigation into Franco was open under a division specializing in minors and gender violence.
Regarding the latest allegations, Recio writes: 
"After the first complaint against Franco was filed July 17, another girl alleged to the specialized prosecutor's office for boys, girls and adolescents that she had a relationship with Franco as a minor, sources said. While the third girl has not spoken to authorities, they are still investigating her alleged relationship with Franco, sources said.

"Prosecutors from the division, which investigates crimes committed against children, hope to speak with Franco in the coming weeks, sources told ESPN. In the D.R., the age of consent is 18. Anyone over 18 who engages in a sexual relationship with someone younger than 18 can be charged criminally."
Major League Baseball recently placed Franco on administrative leave indefinitely under the Joint Domestic Violence, Sexual Assault and Child Abuse Policy while the league looks into related allegations made on social media. MLB and the commissioner have the latitude to discipline Franco or any other player deemed in violation of the joint policy regardless of legal-system outcomes. 
Franco, 22, signed an 11-year extension with the Rays in November 2021. He was selected to his first All-Star Game this season and is hitting .281/.344/.475 in 112 games.