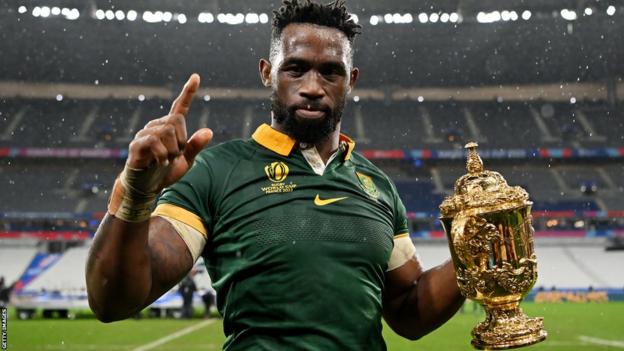 South Africa captain Siya Kolisi says the country will be united by his team's victory against New Zealand in the World Cup final in Paris.
The Springboks retained the trophy with a 12-11 win, four years after their triumph in Japan.
Kolisi becomes the second captain to retain the trophy after Richie McCaw's All Blacks won in 2011 and 2015.
"People not from South Africa don't understand what it means for our country," Kolisi told BBC Radio 5 Live.
"It is not just about the game. Our country goes through such a lot. We are just grateful that we can be here. I want to tell the people of South Africa 'thank you so much'.
"This team just shows what you can do. As soon as we work together, all is possible, no matter in what sphere.
"In the field or in offices, it shows what we can do. I am grateful for this team. I am so proud of it."
Speaking to ITV, Kolisi – South Africa's first black captain – added: "There is so much going wrong in our country – we are the last line of defence. So many people are helpless and there is so much division, but we show there is hope.
"Look what the sport did in 1995. Without that, I wouldn't be here. There were people before that who fought for people that look like me to be in the jersey."
Kolisi only returned to the Springbok side during their World Cup warm-up campaign in August after recovering from surgery on his partially torn anterior cruciate ligament.
He played an influential role in leading the defending champions to back-to-back finals, where they met old foes New Zealand in a repeat of the 1995 showpiece.
The All Blacks lost captain Sam Cane to an upgraded red card after he was adjudged to have made direct contact with the head of Jesse Kriel in a tackle, before Kolisi was also sent to the sin-bin for a high challenge on Ardie Savea.
Unlike his opposite number, Kolisi returned to the field as he was deemed to have mitigation, as the resilient Boks held out in the final stages.
"We knew New Zealand would come more after the red card. That is why they have been so successful over the years and then obviously my moment of naughtiness cost us with a yellow card.
"In the last World Cup we were kind of hoping to get the name of the Springboks back, but now people were expecting us to do it.
"We have played against teams who have done this before. Nobody gave England a chance when they played us [in the semi-finals] and they showed who they are, and then New Zealand today.
"I'm really proud of what the boys have done."
Former England captain Martin Johnson, who won the World Cup in 2003, said neither player deserved to be sent off.
"He [Kolisi] put his head into someone's jaw and stayed on the field," Johnson told BBC Radio 5 Live. "I would have not sent either of them off – they were both accidents.
"One captain has been off the field for 50 minutes and one hasn't."