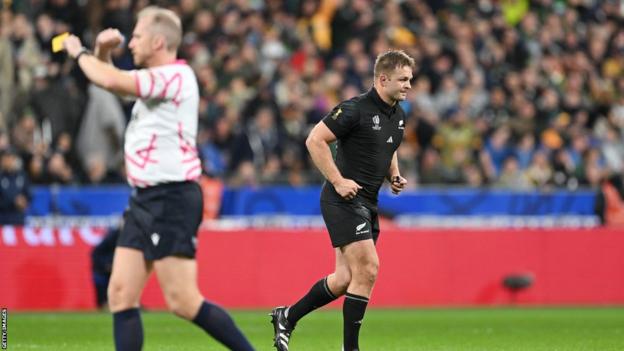 New Zealand captain Sam Cane said his red card in the Rugby World Cup final defeat by South Africa was something he would have to "live with forever".
Cane's high tackle on Jesse Kriel in the 27th minute was upgraded to a red card following a 'TMO bunker' review.
The 31-year-old become the first male player to be sent off in a World Cup final, as his side narrowly lost 12-11.
"We have been here for two months now and anything around the head has ramifications," Cane said.
"At the time I wasn't even aware, it caught me off guard that he stepped back.
"'I am not here to discuss whether it was the right or wrong decision. It can't be changed. Unfortunately it is something I am going to have to live with forever."
Despite spending the majority of the game with 14-men, New Zealand dominated large portions of the second half and missed two opportunities to take the lead in the closing stages.
A missed conversion by Richie Mo'unga and a late penalty by Jordie Barrett ensured the Springboks held on to their one-point lead.
However, South Africa captain Siya Kolisi also spent time in the sin-bin early in the second half after a high tackle on number eight Ardie Savea which the 'TMO bunker' did not chose to upgrade.
All Blacks head coach Ian Foster says both incidents were "similar" but had different outcomes.
"We will sort that out, it's gut-wrenching for him [Cane] and frustrating for us," Foster said. "The game has got a few issues it's got to sort out.
"That's not sour grapes. There were two similar incidents and one was a red, one was a yellow."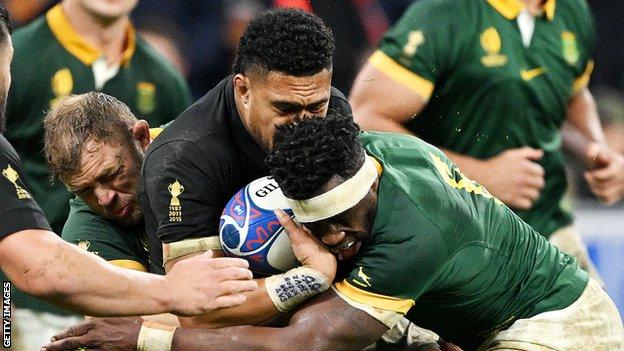 'A red card is incredibly harsh'
England's 2003 World Cup winning captain Martin Johnson agreed with Foster that both tackles should have resulted in the same outcome, and in this instance a yellow card was the fair outcome.
"Kolisi put his head into someone's jaw and stayed on the field. I would have not sent either of them off, they were both accidents," Johnson told BBC Radio 5 Live.
"One captain has been off the field for 50 minutes and one hasn't.
"If you slow it down it looks terrible. There have probably been about 50 moments in this tournament where guys have made contact to someone's head.
"It is just a rugby thing, a yellow card, yes, but a red card is incredibly harsh."
Former New Zealand fly-half Andrew Mehrtens also felt there were "mitigating factors" which should have enabled Cane to return to the pitch.
"Yes, we have to be health conscious but it is a contact sport and I am not sure that is the threshold for a red card," he added on BBC Radio 5 Live.
"Sam Cane is not notorious for being a dirty player – he makes hard tackles but legal.
"On another occasion that might not be a red card, he had led by example and has nothing to be ashamed about."
'We gave everything we had' – Smith
Scrum-half Aaron Smith, who played his last game for New Zealand, said he was "immensely proud of the guys".
"For a long period we were down to 14 men and we fought really hard to get within a point. All the guys put in a massive effort.
"We had plenty of opportunities in that last 20 minutes to try to get ahead on the scoreboard but credit to South Africa, they put a lot of pressure on us, making tackles and turnovers.
"We gave everything we had, but we just couldn't execute in the end."