Liverpool have rejected a £150m bid for Mohamed Salah from Al Ittihad but the Saudi Pro League side are not giving up their pursuit.
Al Ittihad have not ruled out going back in with an improved offer despite an initial bid of £100m – rising to £150m – being turned down earlier on Deadline Day.
Liverpool are still adamant Salah is not for sale, but one source has told Sky Sports News the Saudi club are getting encouragement in "certain quarters" a deal can still be done.
While Al Ittihad feel they have that encouragement, they will try again.
Asked about the prospect of Salah leaving on Friday, Jurgen Klopp said: "The position remains the same, absolutely. No doubt about that. We cannot [sell Salah]. That's how it is. Nothing else to say."
While the Premier League's transfer window closes at 11pm on Friday night, Saudi Pro League clubs can make signings for almost another week with their transfer window closing on September 7.
Al Ittihad are willing to pay Salah £1.5m per week and are hoping to test his commitment to Liverpool, despite his agent Ramy Abbas ruling out a move earlier this month.
The club and the Saudi Pro League are aware Liverpool will refuse to budge on their stance that the Egypt forward is not for sale.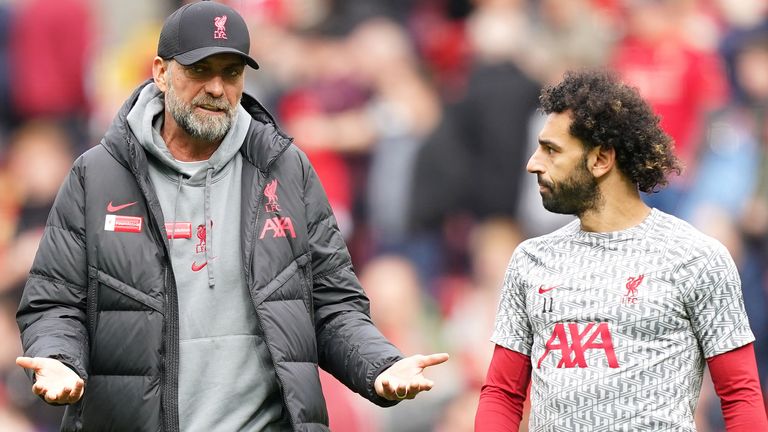 The position remains the same, absolutely. No doubt about that. We cannot (sell Salah). That's how it is. Nothing else to say.
The figures being mentioned have clearly not softened that position.
The 31-year-old has been nothing but professional through the noise over this situation thus far.
Merson: Salah will go for £200m before end of Saudi window
Paul Merson on Sky Sports News:
"He's one of the best players in the world. It's a hard one. If you sell him for £150m what can you bring in? They're not going to be better than Salah.
'That would be irresistible' – Paul Merson makes his prediction on Salah's transfer situation

"But at the same time, are they going to win the league this season? I don't think so. Do you take the money and try to rebuild?
"With another week of their window to go, they might just come in and say £200m and then it's a worry.
"I would say £200m [would be too much to turn down]. I don't see how you can turn that down for a 31-year-old. That would be irresistible.
"If Salah goes you're talking about Liverpool not being in the top-four challenge. But with another week to go, you have to think of the lad and the wages being put around. That's going to turn his head. He won't be happy. It's not a nice position to be in for Jurgen Klopp.
"You've got to keep Klopp happy. He's the manager of the club. He'll want Salah to stay and if he does go that will be through upstairs [agreeing to the deal] and he'll get disheartened. If he has £200m where's he going to spend it with the window shutting?
"I don't see them winning the Premier League with or without Salah. They might say we take the £200m and make this a four-year plan.
"Will he still be there on September 7? I'm going to go no. Neil Diamond: Money Talks.
"Mo Salah won't be happy. I did it many years ago. I went to Middlesbrough the money was phenomenal. Looking back now, I wouldn't do it again. But this is mind-blowing money. Let alone him never having to do anything again, his grandchildren won't have to do anything again.
"If he does go, Liverpool have to rip up the book and start all over again. I feel for Liverpool, I feel for Klopp."
'Saudis want Salah as most famous Arab footballer'
Sky Sports News chief reporter Kaveh Solhekol:
"The Saudi Pro League believe Mo Salah is the most famous Arab footballer in the world and it would be a massive coup for them to have him playing there.
"He has been on a list of names the Saudi Pro League have compiled of players they want to sign this summer. There've been other big names on it like Karim Benzema, Neymar, who they have been able to get – but so far they haven't managed that with Salah.
"They want to sign him, his name is on that list, and if they can get him they would like him to play for Al Ittihad, the champions. There's still a possibility, before the Saudi window closes on September 7, they may make a move for him.
Jamie Carragher thinks Liverpool might consider a bid of £150m or more for Mohamed Salah but expects the Egyptian to stay at Anfield this summer

"This won't be a conventional transfer we're used to. Their transfers are different, it's not a case of discussions between clubs and talks, them contacting Liverpool. This is a centrally-controlled operation, by the Saudi Pro League, the Ministry of Sport, the Sovereign Wealth Fund – and of course Al Ittihad.
"Salah has never come out and said he wants to move. The only public statement we've had was from his agent, which said that Mo had signed a new contract at Liverpool last summer, and he wouldn't have done that if he wanted to leave.
"But, can I see him playing in Saudi Arabia? Yes I can, one day. I'm not saying it's going to be in this window, January or next year, but the Saudis are very serious about signing Mo Salah and have almost unlimited funds.
"He'd be one of the best-paid players in the world, earning at least £1.5m a week, and they'd be prepared to spend more than £100m to sign him, which is a lot of money for someone who's already 31.
"Put that into perspective, they spent about £80-90m for Neymar, who's also the same age."
Follow Deadline Day with Sky Sports
Who will be on the move in the final day of the transfer window before it closes at 11pm on Friday in England and midnight in Scotland?
Keep up to date with all the latest transfer news and rumours in our dedicated Transfer Centre blog on Sky Sports' digital platforms. You can also catch up with the ins, outs and analysis on Sky Sports News.