Marcus Rashford's birthday celebrations hours after Manchester United's 3-0 defeat by Manchester City were "unacceptable" and the forward has apologised, says manager Erik ten Hag.
The party last Sunday night was pre-planned, and attending the gathering did not prevent Rashford from arriving on time for training on Monday.
"I am aware of it and I spoke with him about it," said Ten Hag.
"It is unacceptable. I told him. He apologised and that is it."
Ten Hag was clearly unhappy at the optics of Rashford being seen out in one of Manchester's most exclusive nightspots when he had just been part of an abject Premier League display in which United ended up being comprehensively outclassed.
The manager refused to say whether the England international, who turned 26 on 31 October, had been fined, saying it was an internal matter.
However, he confirmed Rashford had not been omitted from the starting line-up for Wednesday's EFL Cup fourth-round defeat by Newcastle as a disciplinary measure.
It is not the first time Rashford has been rebuked by Ten Hag.
On New Year's Eve last year, he was put on the substitutes' bench for United's Premier League game at Wolves after being late for a team meeting. The striker subsequently scored the winner after his introduction from the bench.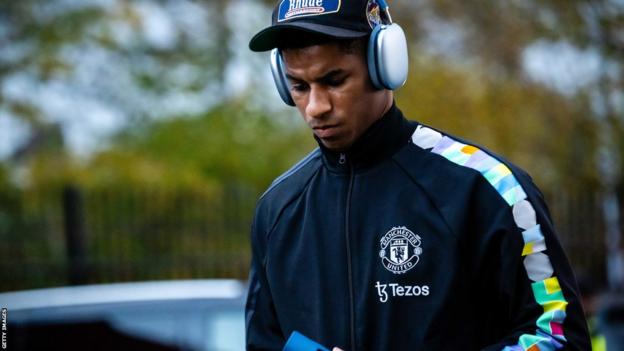 At a time when there is huge scrutiny on Ten Hag and his ability to galvanise his squad after United's worst start to the season since 1962-63, Rashford's behaviour may suggest to some that the Dutchman's message is not getting home.
However, Ten Hag denies this.
"Your suggestion is not right," he said. "He's very motivated to put things right. He's totally with us.
"So he makes a mistake, but that doesn't say he's not fitting in. I see him every day in training, what he's doing. I know. Also off the pitch, how he lives."
Rashford's form is also a matter of concern. After scoring a career-best 30 goals last term, he has only found the net once so far for United this season, against Arsenal on 3 September.
It is reminiscent of his form two years ago, when Rashford scored just five times.
Given he signed a five-year contract extension in July, it is hardly an ideal situation, but Ten Hag retains faith in the forward to turn the situation round.
"He has to be as close as possible to the opponents' goal because that's where his qualities are," Ten Hag said.
"There, he is so important for us and will contribute so much to our success and so we have to get him there, as a team and an individual.
"Also he has to get his timings and movements right to arrive [in front of goal] in the right moments. I'm sure he will be back."