Thousands of Harry Potter fans braved the rail strikes on Friday to gather at King's Cross station in London for "back to Hogwarts day".
Many wearing wizard robes and carrying wands, fans of the franchise travelled to the station to hear the magical loudspeaker call for the Hogwarts Express at 11am, inviting witches and wizards to board the train to Hogsmeade on platform 9¾.
While a host of fans gathered online, thousands crowded in front of the live departure board at the station to see the written display for the fictional platform call, which prompted a cheer from fans of all ages.
The event was hosted for the second year by Sam Thompson, a TV and radio presenter who has appeared in Made in Chelsea and who is a fan of the franchise. At one point Thompson invited Manish Pindoria to the stage where he proposed to his girlfriend, Pavneet Kaur Bason.
Thompson encouraged fans to join in with the live countdown for the train's departure, which was led this year by 10-year-old Arnav Partukar, from Chelmsford in Essex, who won a competition held to find the most enthusiastic fan in the UK, and said it was a day he will "never, ever forget".
"All my friends and family know that I am the biggest Harry Potter fan around, so when my parents told me about a competition to lead the live countdown at 'back to Hogwarts', as a proud Gryffindor I just knew I had to give it a go," Arnav said. "I have had so much fun, and it has been amazing meeting lots of other Harry Potter fans, just like me."
Thompson said hosting the event was a dream come true. "As my cats, Albus and Cedric can attest to, I love Harry Potter," he said. "Being able to come back to King's Cross to host such a brilliant event, in front of so many like-minded fans is literally my dream come true.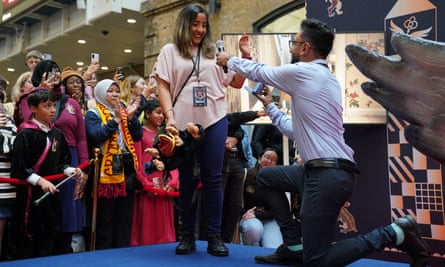 "What I loved about 'back to Hogwarts' is that you get to see the shared love that this community has for Harry Potter and the magical wizarding world, and hosting alongside Arnav has been an absolute honour."
One fan in attendance, Eliya Williams, nine, said: "'Back to Hogwarts' is something I look forward to every time September rolls around, it's a time I feel really connected to other fans and they haven't disappointed this year.
"I'm so excited to be here to celebrate with my fellow muggles, witches and wizards and it means so much that they involved fans in the countdown too."
The new cast members and creative team behind the Harry Potter and the Cursed Child stage play were also there.