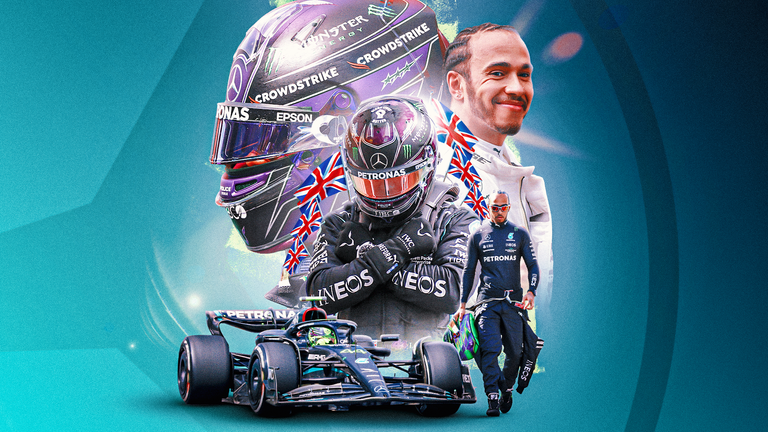 Lewis Hamilton has signed a two-year contract extension with Mercedes to remain on the Formula 1 grid until the end of the 2025 season.
After months of speculation over his future, which included being linked with a move to Ferrari, the seven-time world champion has committed to a deal that extends his racing relationship with Mercedes.
Hamilton, 38, is currently fourth in the 2023 drivers' standings, 183 points behind runaway championship leader Max Verstappen.
Mercedes also officially confirmed that Hamilton's team-mate George Russell will remain with team until the end of 2025.
"We dream every day of being the best and we have dedicated the past decade together to achieving that goal," Hamilton said as Mercedes announced the extension ahead of this weekend's Italian Grand Prix.
"Being at the top does not happen overnight or over a short period of time, it takes commitment, hard work and dedication and it's been an honour to earn our way into the history books with this incredible team."
After beginning his F1 career with McLaren in 2007, Hamilton moved to Mercedes at the start of the 2013 season and they have gone on to be the most successful driver-team combination in F1 history.
The Briton has won six of his seven world titles with Mercedes while the Silver Arrows claimed eight consecutive constructors' championships from 2014-2021.
Hamilton has picked up 82 of his record 103 F1 wins at Mercedes and also claimed 78 pole positions with the team.
Hamilton: Our story isn't finished
Hamilton's extension continues his quest to claim one of the few F1 records he does not hold outright – world championship wins.
He is currently tied with Michael Schumacher on seven, having seen the 2021 title snatched from his grasp at the final moment before Mercedes' failure to successfully grasp F1's new technical regulations saw him out of championship contention in 2022 and again this year.
The 2022 season was the first in Hamilton's F1 career that he failed to claim a race victory – his most recent coming in the penultimate race of 2021, the Saudi Arabian GP.
"We have never been hungrier to win," Hamilton added. "We have learnt from every success but also every setback.
"We continue to chase our dreams, we continue to fight no matter the challenge and we will win again.
"I'm grateful to the team who have supported me both on and off the track. Our story isn't finished, we are determined to achieve more together and we won't stop until we do."
Russell 'feels fantastic' as extension made official
Sky Sports News reported in June that Mercedes had taken up an option to extend Russell's contract by a further year, but until now the team had not officially confirmed the deal.
Russell's hugely impressive debut campaign with the team in 2022, in which he claimed Mercedes' only win and outscored Hamilton, established the 25-year-old as one of the sport's top drivers.
While he has endured a more challenging 2023 to date, there is little doubt that he has the potential to succeed Hamilton as the team's leader when the seven-time world champion does eventually end his career.
"I have grown up with this team ever since joining as part of the junior programme back in 2017. It's my home and it feels fantastic to extend our special relationship through 2025," Russell said.
"After stepping up to the Mercedes race seat last year, I wanted to reward the trust and belief that Toto and the rest of the team placed in me.
"Taking my first pole position and race win last year was an unforgettable feeling. More importantly though, it's been great to work with everybody at Brackley and Brixworth to make progress with our car and push forward our development. Their loyalty, vision and hard work is inspiring.
"We have made some significant steps over the last 18 months and are only getting stronger as a team. I'm excited to help continue to build on that momentum as we progress into 2024 and 2025 as we continue to focus on returning to the very front of the pack."
Wolff: Confirming Hamilton deal 'energising' for Mercedes
Having insisted for several months that it was a case of when, not if, a new deal with Hamilton would be confirmed, Mercedes team principal Toto Wolff says announcing the extension is "energising" for the Brackley squad.
"Our partnership with Lewis is one of the most successful in the sport's history," Wolff said.
"It was always a formality that we would continue together – and it's energising for us all to be confirming that publicly. His qualities as a pure racing driver are illustrated by his remarkable track record; but over our years together, he has grown to become a pillar and leader of our team.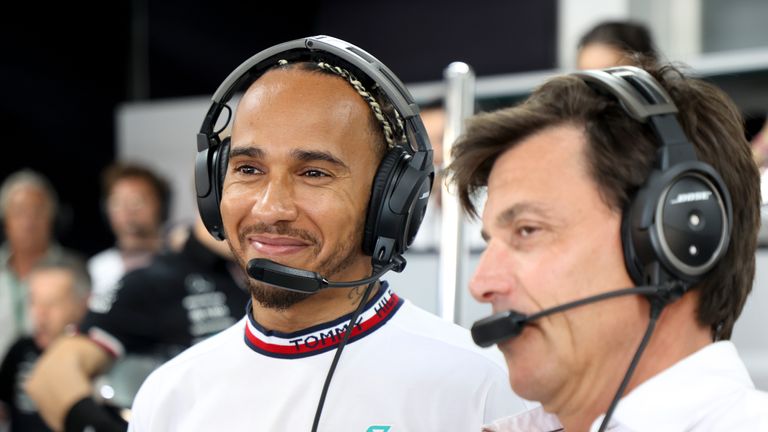 "Those leadership qualities are crucial as we focus on fighting for world championships again.
"As F1's biggest global star, he has also played a key role in shaping our commitments to diversity, inclusion and sustainability, that will be foundations for our success in the years ahead."
Wolff also had high praise for Russell, who he describes as "a leading light of his generation".
"Continuing with our current driver line-up was a straightforward decision," Wolff added. "We have the strongest pairing on the grid and both drivers are playing a crucial role in the team to move us forward. The strength and stability they provide will be key building blocks for our future success.
"George is a leading light of his generation. He has repaid the faith we showed in him when promoting him to a race seat in 2022. His maiden pole position in Hungary and first Grand Prix victory in Sao Paulo were standout moments last season.
"As a driver, he combines razor-sharp speed with the tenacity of a true fighter. But he brings, too, an intelligence and attention to detail that will help him to continue to grow, develop and improve further. He is a natural fit to the team and we are delighted to have extended the relationship for the coming years."
Sky Sports F1's live Italian GP schedule
Thursday 31 August
2pm: Drivers' Press Conference
Friday 1 September
8.35am: F3 Practice
10am: F2 Practice
12pm: Italian GP Practice One (session starts at 12.30pm)
2pm: F3 Qualifying
2.45pm: F2 Qualifying
3.40pm: Italian GP Practice Two (session starts at 4pm)
5.15pm: The F1 Show
Saturday 2 September
8.20am: F3 Sprint Race
11.15am: Italian GP Practice Three (session starts at 11.30am)
1.10pm: F2 Sprint Race
2.10pm: Italian GP Qualifying build-up
3pm: Italian GP Qualifying
4.45pm: Ted's Qualifying Notebook
Sunday 3 September
7.10am: F3 Feature Race
8.15am: F2 Feature Race
12.30pm: Grand Prix Sunday: Italian GP build-up
2pm: THE ITALIAN GRAND PRIX
4pm: Chequered Flag: Italian GP reaction
5pm: Ted's Notebook
Next up for for Formula 1 is Monza, the Temple of Speed, which is the last European race of the season. All sessions from the Italian GP will be live on Sky Sports F1 from this Friday. Stream F1 on Sky Sports with NOW for just £26 a month for 12 months. Cancel anytime