John Wayne, looking great in a battered old Stetson, emerges through a door on to a wood-panelled landing. The iconic screen cowboy looks cautiously around before pushing another door, which is opened by a young Brigitte Bardot. The French star barely has time to say "Oh, pardon" before she disappears back through the door, only to be replaced by a grizzled butler figure. With a palpably sinister sense of purpose, he walks across a small room towards a black and white door – from which he emerges, having been transformed into a full-colour Antonio Banderas, bristling with sensitive intent as he approaches yet another door, with classical strings piling on the emotion for the full eight seconds he's on screen.
"There's so much symbolism attached to a door," says Christian Marclay. "Why would you want to show it – if not to create an element of surprise, change or suspense?" Marclay, a Swiss-American artist based in London, is talking about his new video work, Doors, a stream of joined-together film clips in which actors walk through, well, doors.
Anyone with a passing knowledge of contemporary art will immediately identify Doors, which can be seen in September at London's White Cube Mason's Yard, as the follow-up to Marclay's hugely popular The Clock. A 24-hour compilation of film clips in which timepieces that feature fleetingly in movie scenes are always telling the actual time in the viewer's reality, The Clock has been described as one of the most important artworks of the 21st century and as one of the greatest pieces of conceptual art ever, if not the greatest. Since its launch in 2010, it has had huge reactions all over the world. It's fun, entertaining in a way we don't expect of conceptual art, and is actually a clock in its own right.
Tall and bespectacled, with a husky New York drawl that makes him appear laconic even when he's talking at length, Marclay isn't keen on Doors being thought of as a "follow-up". It took him 10 years to make and the facile idea of the follow-up feels antithetical to the rarefied world of conceptual art – Marclay isn't crazy about being thought of as a conceptual artist either. "I'm an artist," says the 68-year-old, "and I do different things." Nor is he looking for another hit. "That's only for pop musicians. My purpose is to do the things I want and if the audience is interested, that's great. I was grateful for the success of The Clock, but it became a nightmare, like a band having a hit and everyone wanting to hear the same song over and over again."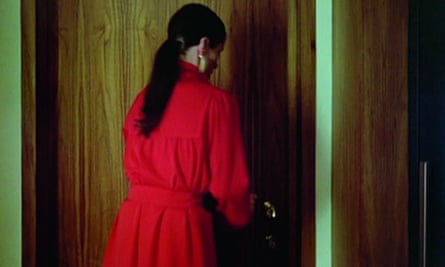 Doors and The Clock follow a similarly seductive pattern: black and white scenes intercut with colour, classic Hollywood with gritty New Wave, romcoms with westerns and violent thrillers. But unlike the earlier work, Doors has disconcerting repetitions. It feels like Sidney Poitier has barely burst into a corridor past a bunch of gawping teenagers, then given way to a young Kirk Douglas lording it over a newspaper office, than he's back on screen, rampaging down the same corridor in the same film. He disappears through the same door where this time we find an actor telling a blond woman: "Stay here."
If all this makes it hard to work out quite how long Doors is, Marclay isn't about to help. "Duration is not so important with this film," he says. "I want people to feel a bit confused. Even if you see the whole film through, there are so many repetitions you probably won't be aware of it. It's a loop. It has no beginning or end and that for me is the proper way of dealing with the strange anxiety that comes with watching film or video in a gallery. We all know the feeling of walking into a darkened room with a video showing, and not knowing how long we're going to have to stay or how much we've missed. With a loop, there's no good or bad time to enter or leave. It's like when you're looking at a painting. You just spend the time you want with it and move on."
As the film's numerous protagonists proceed through endless interconnecting but unrelated spaces, there's a sense of doubt and anxiety that feels like it will never be resolved. "It's a mental architecture: an endless row of rooms, corridors and passages, where you can never recall the exact path you took. In each shot, the character enters through one door and leaves through another. So there's always this tension between the known and the unknown, the space you're in and the space you're going to enter, which film-makers endlessly come back to."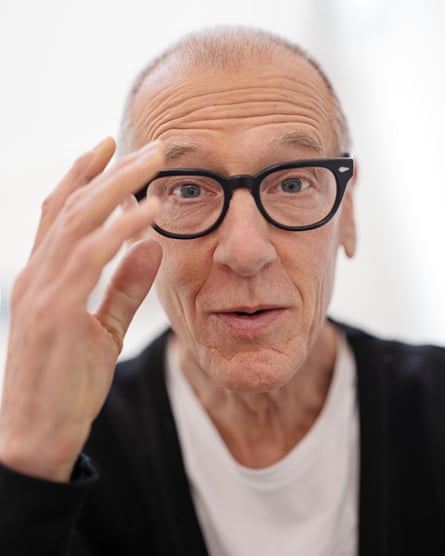 While Marclay tends to be characterised as "cool" or slightly aloof, he's warm and open once you get past a certain cautious reserve. Having spent 25 formative years in New York, with his work traversing painting, film, sculpture and sound, he feels very much a product of the incredible boundary-smashing creative ferment of the mid to late 20th century Big Apple, the New York of John Cage, Fluxus, Lou Reed and Laurie Anderson, which fed into punk and hip-hop, both of which were major influences on Marclay. So it's disconcerting to be reminded that he is essentially Swiss: he grew up in Geneva and could barely speak English until the age of 18. He got into avant garde culture not in the lofts and galleries of SoHo, but in an ultra-strict, French-speaking Catholic boarding school.
"We didn't have phones, cassettes or radios, or any way we could hear music," he says. "So from the age of 14 to 18, when most people are using music as a way to rebel, I was separated from the world." This had the unintended consequence of making him aware of John Cage before he was fully cognisant of the Rolling Stones. Indeed, he must be one of the few people to have got into difficult contemporary music (Cage's most famous work is four minutes and 33 seconds of silence) as a way of meeting girls. "There was another boarding school for young women not so far away. We had already held afternoons where we would 'share our poetry'. I decided to organise 'classical music appreciation evenings' as another way to get the girls over. And I veered naturally towards obscure music."
Determined to go to art school, Marclay applied to study sculpture in Geneva because he understood that, having fewer applicants, it would be the easiest way in. Later, at the prestigious Cooper Union college in New York, he encountered the German conceptual artist Hans Haacke. "His classes involved discussing our work in detail, so the discussion became as important as the work, which taught me there is more to art than the silent object. I wanted to transform objects in a way that took account of their cultural and experiential traits. That for me had more power than working purely abstractly, treating the work as a piece of wood or steel, in the manner of minimalism."
An opportunity to explore this approach came in 1978, when he found a vinyl LP lying in the street near his Boston apartment. "Coming from Europe, and seeing a record in the street with cars driving over it, represented the excess and waste of American culture in a really interesting way. I took it home to listen to it. It was a Batman record, a children's story with sound effects. It was heavily damaged and slipping, but was making these interesting loops and sounds. I just sat there listening and a kind of spark happened."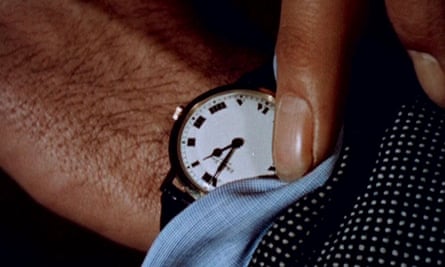 Marclay began manipulating records as a kind of performed sculpture in galleries and nightclubs: physically cutting up records bought in thrift stores, splicing together the interesting parts and playing the fractured cacophonous results on turntables hanging round his neck, in gestures that smack equally of hip-hop and musique concrete. In one instance he "ate" an LP on film.
Indeed, his interest in cutting up film and videotape seems to stem as much from music sampling culture as it does from film-making. The clips used in The Clock, which he began shortly after moving to London in 2007, were all sampled from DVDs from a single rental shop in Shoreditch. Considering the sheer scale of the project – filling 24 hours with time-specific clips – its creation was remarkably quick. Making Doors was a far more protracted process, very much bound up with lockdown and Marclay's experience of a changing London.
"We came to London because we wanted a change from New York. London has been good for me. It's allowed me to focus on work with less distraction. But I feel London is losing its openness since Brexit, like it's drawing into itself, which is sad and disappointing. I'm not saying New York is any better and I have no plans to move. But I think the combination of Brexit and Covid has really hurt London."
Although he began Doors in 2010, immediately after finishing The Clock, it was only under lockdown that he was able to fully engage. "It felt somehow more resonant then than it had 10 years before, which gave me an urgency. There was a sense of uncertainty under lockdown which is still very much with us, an anxiety about what we're living through politically, anxiety about the environment, about everything. So it felt the right time to finish the film and get it out into the world. We don't know what's coming, what's behind the next door."