CNN
 — 

Some of Donald Trump's co-defendants in the sprawling election subversion case in Georgia are trying all sorts of ways to fund their mounting legal bills – yet the costs of the 2020 election fallout may quickly exceed their abilities to pay.
At least four have turned to crowdfunding online, raising hundreds of thousands of dollars to pay for defense lawyers. One now has a political action committee to help with legal fees. Another has an ally in Congress vowing to support his legal defense. While another ended up spending nearly a week in jail because he initially couldn't afford to hire an attorney.
Trump has covered the legal bills of aides, advisers and employees during the House select committee's probe into January 6, 2021, and federal investigations, including his two co-defendants in the classified documents case, Walt Nauta and Carlos De Oliveira, both of whom work for the former president.
But there is no sign yet that Trump intends to do so for any of his co-defendants in the Georgia case, which alleges that he and others engaged in a criminal conspiracy to subvert the state's 2020 election results. In fact, Trump has publicly distanced himself from them, telling Newsmax he doesn't know "a lot of these people."
"And they don't have a lot of money, and some of them just almost nothing," Trump said.
A source close to Trump told CNN that the Georgia defendants haven't asked the former president for help, though the source said it's possible that a recently created legal defense fund for the former president's associates could eventually extend to them.
On Thursday, Trump's legal team formally asked a judge to sever his case from his co-defendants who want a speedy trial, according to court filings.
Trump's sons, Eric and Don Jr, have helped with the fundraising around the legal defense fund created in July, which is intended to support legal costs of Trump's associates and has begun to see financial pledges, the source said.
Another source close to Trump said that defendants in need of financial help with legal bills should apply to get aid from the defense fund.
Trump's political action committee, Save America, has spent more than $40 million on legal fees for him and many of his associates since the start of 2021, including more than $21 million during the first six months of this year, according to federal campaign finance records.
As costs have soared, Save America PAC requested a refund on a $60 million contribution it made to a super PAC supporting Trump, suggesting a cash crunch for Trump's political committee heading into the 2024 presidential election. The PAC has not yet gotten the money back, but is expected to, a source familiar with matter told CNN.
The prospect of a costly legal defense has prompted some defendants to find other ways to raise money.
Jenna Ellis, a right-wing attorney who represented Trump in 2020, has already raised more than $180,000 for her legal defense fund through a faith-based crowdfunding site called GiveSendGo.
John Eastman, Trump's election lawyer who pushed the legal theory that then-Vice President Mike Pence could block certification of the election on January 6, 2021, has raised more $500,000 though the site since launching his page in late 2021.
Eastman told reporters after surrendering last week that Trump was not paying his legal bills, and he said he hadn't spoken to the former president recently.
Jeffrey Clark, the former Justice Department official who was also charged last week, has raised more than $56,000. And Cathy Latham, who was a fake elector in Georgia, just launched a page following the indictment and has collected $15,000 in donations.
The prospect of hefty legal bills has also prompted grumbling from Ellis, who was charged as part of a conspiracy over planning the hearings after the 2020 election in Georgia where Trump allies pushed baseless fraud claims.
"I was reliably informed Trump isn't funding any of us who are indicted," Ellis posted last week on X, the site formerly known as Twitter, in response to Trump ally Matt Schlapp's call for Republicans to unify behind Trump in light of the Fulton County indictment.
"The sooner we unify behind a nominee that sooner we can use resources to fund the defenses of everyone indicted for being a Trump Republican," Schlapp had tweeted.
"Would this change if he becomes the nominee?" Ellis, who has become a Trump critic and is supporting Florida Gov. Ron DeSantis in the 2024 primary, tweeted back. "Why then, not now? I totally agree this has become a bigger principle than just one man. So why isn't MAGA, Inc. funding everyone's defense?"
A source close to Trump said of Ellis: "I don't think she would be on the top of Trump's list anyway (to help with legal bills)."
Schlapp told CNN that he was OK with Trump fundraising to pay his legal bills to fight against what they think are unjust prosecutions.
"I think conservatives and office holders should collectively help all these warfare victims including in Georgia and including Jenna," Schlapp said. "She and I have had our political differences, but she is being prosecuted for her beliefs and not for any illegal actions and that is un-American. "
The Trump team did not return a request for comment.
The Georgia case, with its sprawling roster of defendants, is playing out much differently than the two federal criminal cases against the former president – one in which he is the sole defendant alongside a handful of unindicted co-conspirators, and another where two of his lower-level staffers are charged as conspiring with him to obstruct justice.
Many of the witnesses' and defendants' attorneys in those cases – particularly those employed by Trump's political operation or in his business empire – are still being reimbursed through Trump's coffers.
Paying the legal bills of his co-defendants in Georgia could help the former president keep them all unified as they fight the Fulton County charges. Yet there are already signs many of the defendants are likely to distance themselves from Trump.
Two of the defendants, lawyers Sidney Powell and Kenneth Chesebro, have requested a speedy trial, a motion that Trump is opposing. Trump's legal team seems determined to delay the trial for as long as possible, potentially splitting him off from the defendants who want a quicker trial timeline, while Fulton County District Attorney Fani Willis wants to try all the defendants at once, potentially this fall.
None of the defendants has pleaded guilty, but it is common for criminal defendants facing mounting legal bills to end their cases without the time-consuming costs of a trial.
For one of Trump's former lawyer-turned-co-defendants, Rudy Giuliani, the Georgia case only adds to the former New York mayor's lengthy and growing list of legal bills.
Even before he was indicted in Georgia, Giuliani was struggling to pay legal bills for evidence-gathering in multiple defamation lawsuits related to the 2020 election, when Giuliani was Trump's personal attorney.
CNN previously reported that Giuliani and his attorney made a personal appeal to Trump earlier this year to cover his legal costs. Trump agreed to pay a debt to a data vendor, but he has not shelled out any money for his broader legal bills.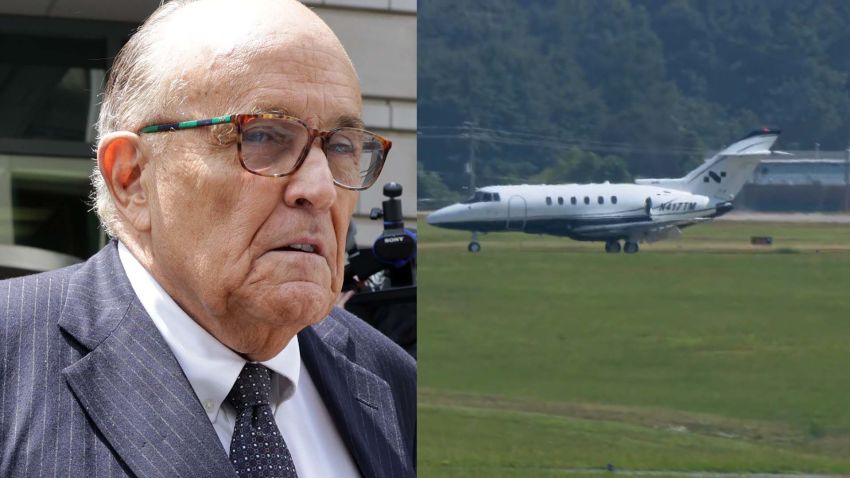 CNN reporter notices an important detail about the plane Giuliani traveled in
Trump is headlining a $100,000-per-person fundraiser for Giuliani next week at his Bedminster, New Jersey, golf resort, according to an invitation for the event.
And Giuliani's son, Andrew Giuliani, was involved in the creation of a new political action committee last month, Giuliani Defense, that could help him cover his legal costs, according to campaign finance records. Andrew Giuliani has his own relationship with Trump – he has played golf with him in New Jersey this summer and attended his post-arraignment speech and event at Bedminster.
Andrew Giuliani did not respond to a request for comment.
In Georgia, attorney Brian Tevis negotiated Giuliani's $150,000 bond and surrender last week. It's still not clear who will be representing Giuliani as the case against him moves toward a trial, however.
"At this point, I was only involved in obtaining a bond and negotiating the surrender. I don't know if I'll be in the case going forward or not, that remains to be seen," Tevis told CNN's Kaitlan Collins last week. "I don't discuss my clients' finances or arrangements between us in any of my cases and this one's no different."
Other prominent Republicans are also offering to help the various defendants.
Rep. Chip Roy, a Texas Republican, came to the defense of his former House colleague and Trump White House chief of staff Mark Meadows, railing against the "political prosecution" in Georgia. "He is ever faithful, but we should support his defense costs (more to follow) & Georgia should end this attack on justice," Roy tweeted.
A spokesman for Roy declined to elaborate on what the Texas Republican was planning.
All but one of the 19 defendants was released on bond after surrendering last week. Harrison Floyd remained jailed for nearly a week. Floyd – the leader of Black Voices for Trump, who was accused of threatening a Georgia election worker – surrendered at the jail without an attorney, telling a magistrate judge he could not afford a lawyer.
"I cannot afford an attorney with something like this," Floyd said.
This week, Floyd hired an attorney, who negotiated a $10,000 bond, and he was released from the Fulton County jail on Wednesday. Floyd's attorney, Todd Harding, did not respond to requests for comment on how he was hired.
Trump, too, has sought donations since his indictment through his political campaign, which has covered tens of millions in legal costs since the former president left office.
CNN has previously reported that Trump's Save America leadership PAC has devoted more than 70% of its disbursements to legal bills for Trump and his associates during the first six months of this year. The PAC began July with a little more than $3.6 million remaining in its bank accounts – a fraction of the nearly $18.3 million in reserves it had at the start of the year.
The bulk of those fees are covering Trump's own lawyers in the four criminal cases he's now facing, along with various lawsuits for which he's headed to trial. But the PAC has also spent hundreds of thousands of dollars on the legal fees for defense lawyers who represent notable figures in Trump's circles, including Nauta and De Oliveira, his two co-defendants in the classified documents case.