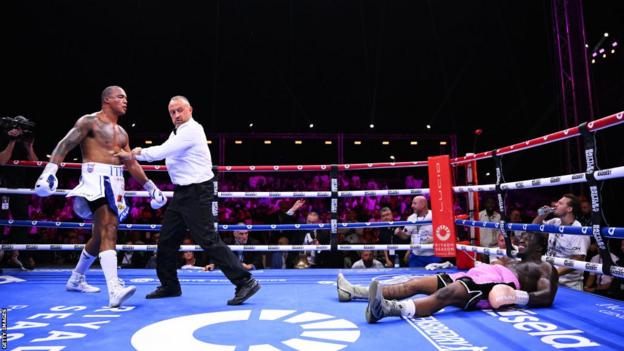 Fabio Wardley retained his British heavyweight title with a TKO victory against David Adeleye in Saudi Arabia.
Wardley landed a clean left hook to put Adeleye down in round seven.
Adeleye beat the count but Wardley ended the contest moments later as he put the pressure on by going on the attack again.
"I have boxing IQ. I know how to lead someone on and that's what I did," Wardley said.
"It's the difference in experience. I knew what to do as the rounds went on, I was on form and it's probably the best I've felt.
"Everyone tags this white collar name on me but I've shed that name now."
It is the first time a British title has been contested overseas.
London's Adeleye, happy to fight off the back foot, enjoyed the better of the early exchanges and found success on a couple of occasions with a well-timed left hook.
But Ipswich-born Wardley took control from round three as he worked behind the jab and then started to unload with combinations to body and head.
It became a great back-and-forth bout with Wardley showing control and Adeleye, who lost for the first time in his career, launching wild attacks.
Adeleye's legs never quite came back after he hit the canvas and, as he stumbled on to the ropes following unyielding pressure from Wardley, the contest was waved off.
A meeting with Olympic bronze medallist Frazer Clarke could be next on the cards for Wardley, who now boasts 16 stoppages from 17 fights.
"There's someone ringside now making their voice heard. He's [Frazer Clarke] flew all the way over here for me. I've got one more fight at British level – if that man wants it then we can get it sorted."
The fight, which served as the co-main event on Tyson Fury-Francis Ngannou undercard, made up part of one of the headline shows in Saudi Arabia's 'Riyadh Season'.
The country has been criticised for using high profile to sportswash its image and distract from its poor human rights record, reportedly paying millions to bring Fury's bout with Ngannou to the Gulf.