Perhaps it is a sign of the increased expectations placed upon Arsenal due to Mikel Arteta's good work, but despite taking seven points from their first three Premier League games, questions are being asked of the manager's decision-making.
The consensus appears to be that Arteta, the most high profile of Pep Guardiola's proteges, is overthinking things.
The use of Thomas Partey in the back four and selection of Leandro Trossard over the in-form Eddie Nketiah against Fulham last weekend have raised eyebrows, with Gary Neville urging the Gunners to "sort themselves out and get back into a shape that suits them".

Sunday 3rd September 4:00pm


Kick off 4:30pm

That sentiment was shared by Paul Merson, who told Sky Sports: "I do worry for Arsenal. Arteta is changing things around.
"I just find it complicated. This experiment all the time… you've got to trust your players. Why didn't Nketiah start against Fulham?"
Nketiah has begun the season well, scoring in the win over Nottingham Forest and winning the crucial penalty against Crystal Palace, while he earned his first England call-up on Thursday.
FREE TO WATCH: Highlights from the Premier League match between Arsenal and Fulham, including Eddie Nketiah's second goal of the season

The 24-year-old also scored off the bench against Fulham, with Arteta appearing to recognise his error in starting Trossard when he replaced the Belgium internatiobal with Nketiah at half-time.
But that was the second time in four games that Arteta has chosen a false nine to lead his attack instead of Nketiah, following the use of Havertz in that position in the Community Shield against Manchester City.
With Gabriel Jesus missing the start of the season due to injury, Nketiah surely spied an opportunity to stake his claim in the opening fixtures. Instead, he has started only 50 per cent of Arsenal's matches.
FREE TO WATCH: Highlights from Arsenal's win against Crystal Palace in the Premier League, secured thanks to a penalty won by Eddie Nketiah

However, Arteta has been keen to publicly praise Nketiah this month, saying after the Fulham game that he "looks a real threat" and has "fire in the eyes".
The manager also said in the wake of the win over Forest that "the way he trained this week, he was telling me: 'Gaffer, if I don't play, you are blind'."
So if Nketiah is producing in training and in matches, why does Arteta seem not to fully trust him?
The answer may lie in the data, which shows that Nketiah is less creative than his rivals for the No 9 shirt – while he also has a concerning habit of missing big chances.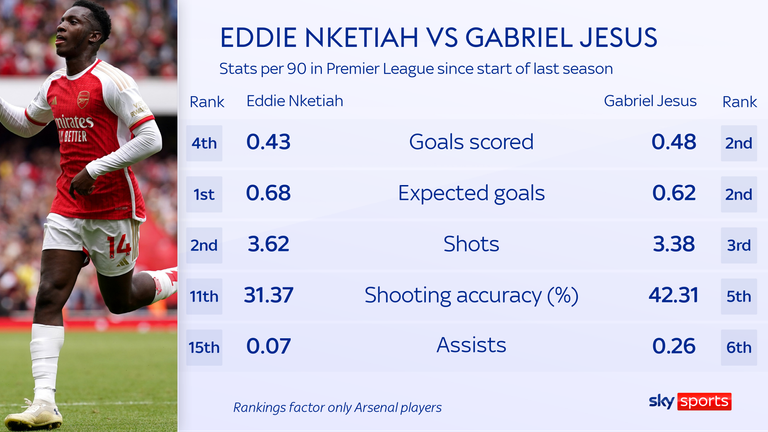 Nketiah produces fewer assists and completed final-third passes per 90 minutes than both Jesus and Trossard, therefore offering less in the construction of moves and the creation of chances for his team-mates.
The academy product also has the worst expected goals differential among all Arsenal players since the start of last season, while only Darwin Nunez has missed more big chances per 90 minutes in the Premier League during that period.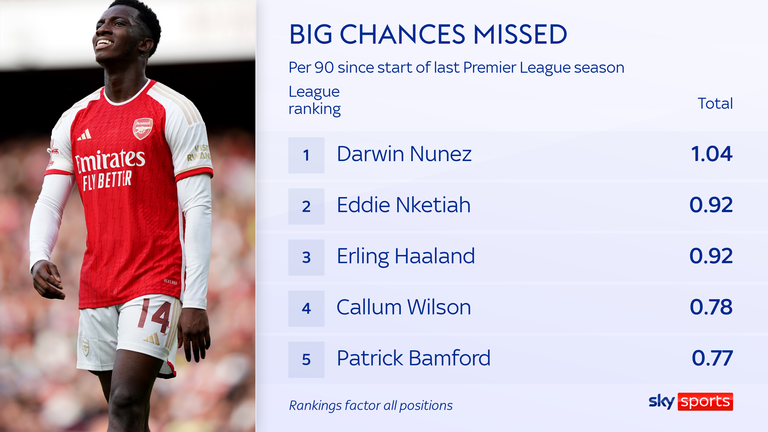 But despite missing more than his fair share of chances, Nketiah is still a fairly reliable goalscorer, with his numbers standing up to those of Jesus and far exceeding Trossard's.
Nketiah also has a remarkably high expected goals total, with only Erling Haaland and Callum Willson ranking above him in the Premier League per 90 minutes since last August, while he also ranks ninth among all forwards during that period for passing accuracy.
That suggests Nketiah has the capacity to become more involved in his team's play, while his tendency to need several chances before scoring is offset by the fact he gets on the end of a lot of opportunities.
But perhaps it is not just the statistics which create doubt over Nketiah's quality. His status as a graduate of the Arsenal academy could also be both a blessing and a curse.
Nketiah has the benefit of being a homegrown player that supporters want to succeed, but also lacks the lustre of being an exciting new player – like Jesus – that the club signed after impressing elsewhere.
FREE TO WATCH: Highlights of Arsenal against Nottingham Forest in the Premier League, including Eddie Nketiah scoring the Gunners' first goal of the season

Instead, the perception could be that Nketiah is a known quantity, seen as capable of holding down a place in the squad but not quite good enough to be a regular starter.
Nketiah also has a relatively small body of work to point to in stating his case. The only football he has played away from Arsenal was a disappointing loan spell with Leeds, while – despite being 24 years of age – he has never started more than nine league games in a season.
When Nketiah entertained the idea of leaving Arsenal last summer, it was telling that the clubs most interested in signing him were not Arsenal's fellow big-six sides, but Crystal Palace and RB Leipzig.
With Jesus back from injury, Nketiah's route to the regular football that he needs to show his true worth is set to become even tricker.
But Nketiah may take heart from Arsenal's fixture list, which sees Manchester United visit the Emirates on Sunday – live on Sky Sports – as the Gunners face their toughest test yet of this fledgling season.
FREE TO WATCH: Highlights from Arsenal's win against Manchester United in the Premier League last season, featuring an Eddie Nketiah double

The striker enjoyed possibly the finest moment of his career against the same opponents last season, scoring twice – including a 90th-minute winner – as Arsenal claimed a 3-2 win.
Nketiah may well have played himself into Sunday's XI with his cameo against Fulham. If he can repeat the trick against United, he may begin to make Arteta's life a little less complicated.
Stream Premier League action on Sky Sports with NOW for just £26 a month for 12 months. Cancel anytime.