CNN
 — 

You'd be forgiven for thinking the resurgence of airships and blimps was a load of hot air. This is, after all, the means of flight which plummeted in the public's estimation in an inglorious blaze with the 1937 Hindenburg disaster. Ungainly, slow and prone to accidents, they were superseded in practically every way by the commercial airplane. Yet close to a century after falling out of favor, a new generation of airships is preparing to take to the skies. Most of these have ambitions as large as their supersized proportions; touted as a more sustainable alternative to freight trucks or ships, transporting tons of goods at a time (while leaving humans on terra firma). But while some go big, one company is dreaming smaller. Much smaller.
South African startup Cloudline has received millions of dollars in investment for its mini blimps. Just over 18 meters (60 feet) long and with a miniscule net weight of two to three kilograms (around four to seven pounds), the company is pitching them as an alternative to helicopters and other vertical take-off and landing aircraft, and with payload capacities outstripping those of drones.
Cloudline has already received approval from local authorities to begin flying its airships in South Africa and is in talks with partners in Namibia, Mozambique and Kenya to begin operations, says CEO Spencer Horne.
The helium-filled blimps are fitted with solar panels and backup batteries to power their engines, have a flight time of up to 12 hours and a range of up to 400 kilometers (249 miles), flying at a height up to 1,220 meters (4,000 feet) above take-off level.
Flight is fully autonomous, with each blimp following predetermined waypoints. In the event an airship encounters an abnormality, it will reroute to a predetermined point and wait for instruction from a human, who has access to its telemetry data.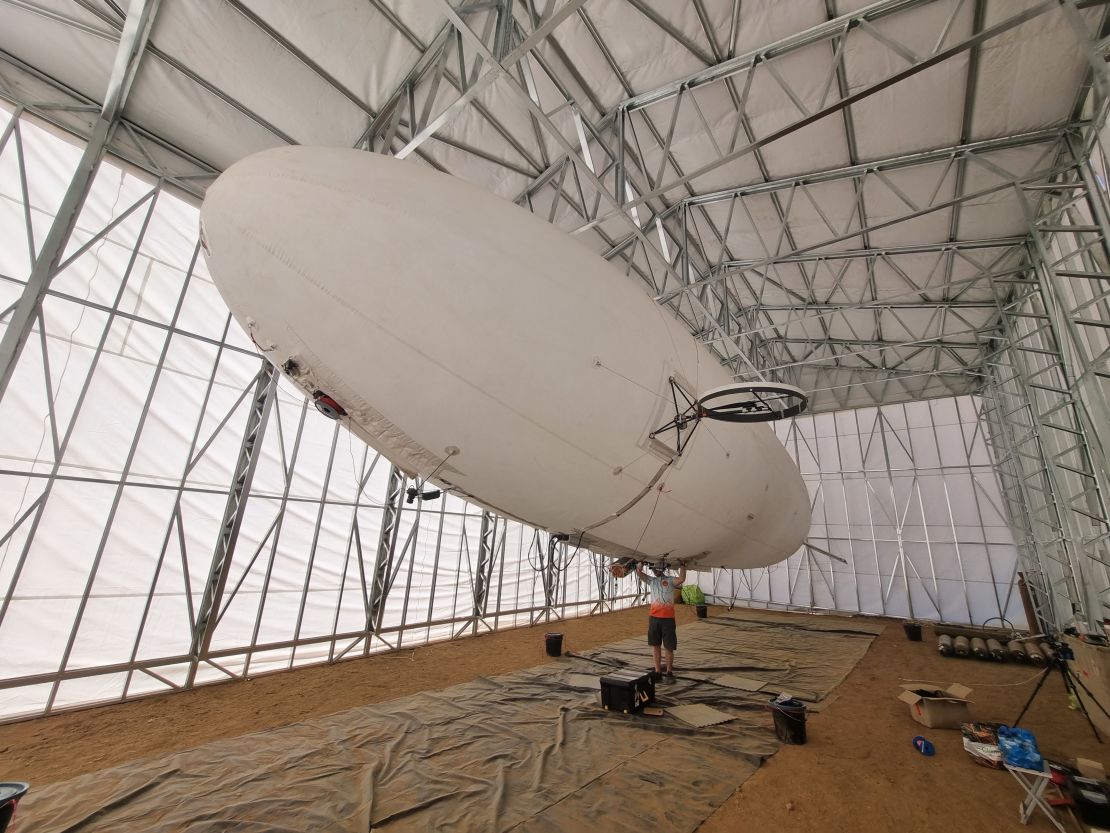 "The inspiration was to empower and get rural communities connected," says Horne, who points to a lack of reliable transport infrastructure that still exists across parts of the continent.
Helicopters and airplanes have long served poorly connected communities, but their take-off and landing requirements impose limitations, he adds, and their delivery methods are not always precise – take air drops, for example.
Horne looked at the drone industry in the 2010s, which reduced cost barriers to aviation, and watched as they began delivering medicines to remote parts of East Africa. But current drones also have limitations, including payload capacity. More payload requires a bigger drone, however, "you can't just take the drones that are in existence and keep scaling them up," he explains. Engineering complexity and manufacturing costs increase with size, he adds, plus, "too quickly you end up with aircraft that need to have carbon fuels."
Wanting a sizable payload, clean propulsion and vertical take-off and landing, the Harvard University graduate turned to blimps.
Cloudline first received venture capital backing in 2019, and after years of research and development and prototyping, the company is preparing to launch commercial operations.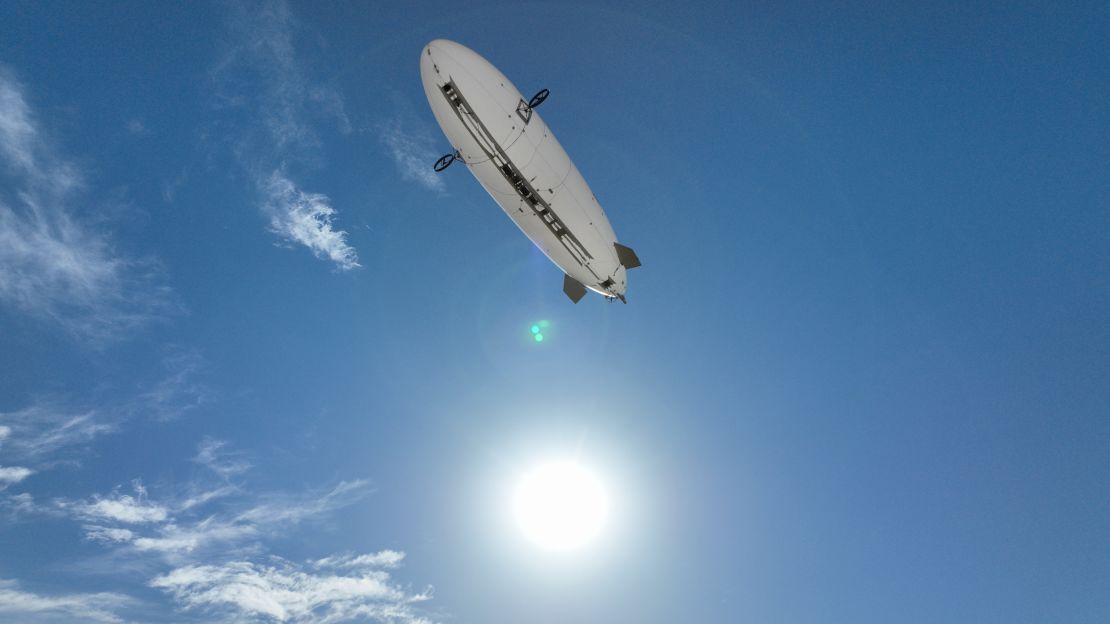 Gross domestic product in sub-Saharan Africa is expected to double between 2020 and 2040 according to a recent report by Euromonitor International. However, "infrastructure is undoubtedly one of the biggest challenges affecting Africa's economic development," says Christele Chokossa, a South Africa-based research consultant at the organization.
Chokossa cites countries like Cameroon, Cote d'Ivoire and the Democratic Republic of Congo, where less than 10% of roads were paved in 2022, hindering access. "Airships are likely to provide a unique opportunity to close such (an infrastructure) gap, especially considering the relatively higher capacity they can carry compared to drone delivery, as well as its level of affordability and infrastructure requirements compared to expected cargo plane delivery," she says.
Cloudline's current airship model can carry 40 kilograms (88 pounds) of cargo, with the company's goal to carry up to 100 kilograms (220 pounds) "within reach," says Horne.
"The ability of companies like Cloudline to expand is highly subject to the complexity of regulations experienced across the continent," Chokossa adds. "Besides, educating governments and prospective users is fundamental, since airships are not necessarily one of the most common tools found across the continent and considering relatively low delivery costs, reaching economy of scale will be important to reach profitability."
Cloudline's CEO would not discuss pricing, saying deals were bespoke and based on how each airship will be utilized. The use cases extend beyond deliveries, he explained. The airship's onboard cameras and other sensors offer a low altitude form of aerial surveillance (or deterrence) ­– useful in anti-poaching operations. It can also be used for search and rescue missions, or surveying hard-to-access infrastructure in remote areas.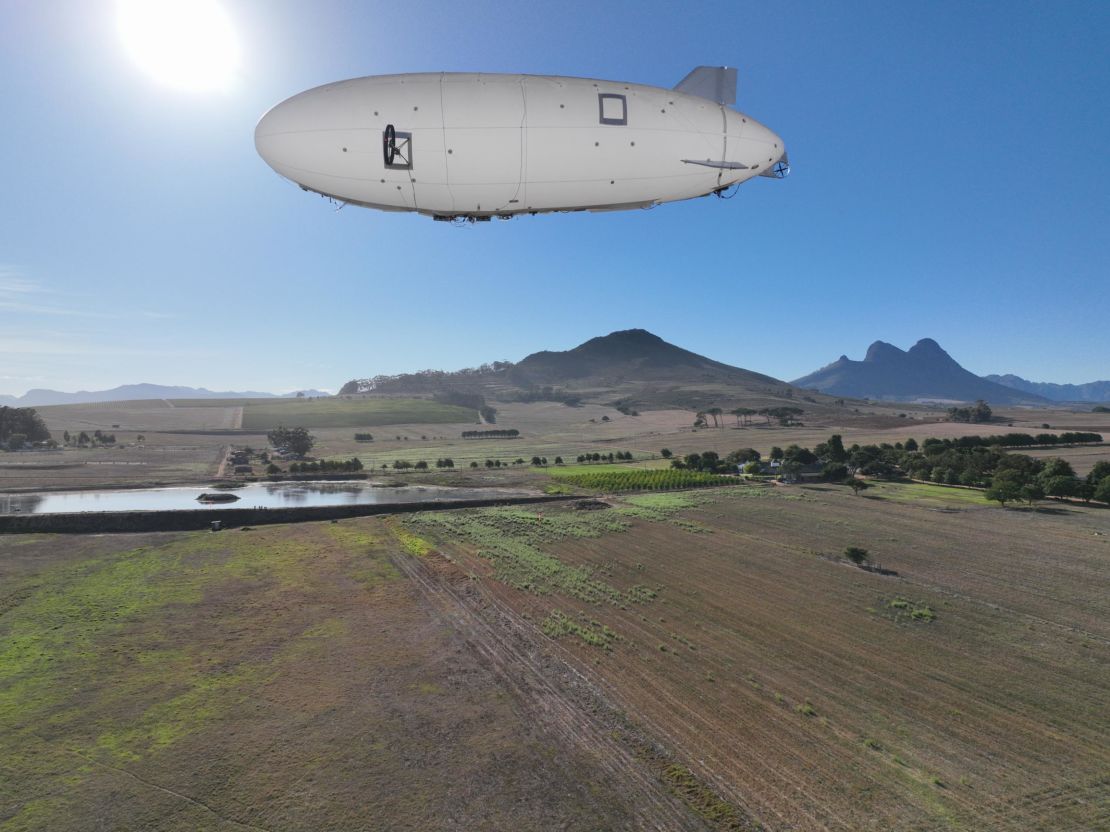 In Kenya, Cloudline has a deal in place to facilitate medical deliveries, and in Namibia it is partnering with UNICEF for medical deliveries and medical diagnostics, connecting remote clinics with a central district hospital. In South Africa and Mozambique, the blimps are being deployed for emergency communications for the UN's World Food Programme, says Horne.
As its commercial ventures gather pace, the company continues to develop its airship, with plans for greater autonomy and adaption to weather conditions, says Horne. Cloudline says it is also exploring using hydrogen to inflate future blimps – a gas that can be generated renewably with slightly greater lift than helium. The downside is hydrogen is flammable, but helium has its own drawbacks, including volatile pricing in recent years and question marks over its long-term supply.
However it looks to fill its airships, Cloudline is hoping it can break through in this revived transport sector.
"Doing this kind of stuff in Africa … is hard," Horne says. "It takes a while and a number of people to get to before you convince folks to invest in you to do aerospace in Africa."
The CEO says that unlike other airship companies engaged in long prototyping phases for their larger craft, he's ready to bring his product to market.
"We think it's far more important to get out and deliver a service than to build something that's going to debut in 2035 or 2040," he says. "Let's get airships to the people."