MUMBAI: On Thursday, BCCI, the richest cricket board in the world, will sell its bilateral media rights- via an e-auction in Mumbai. The auction will be for international and domestic matches in India for the next five years-from September 2023 to March 2028.
While there were originally 12 bidders in the fray, after the submission of the technical bids on Monday, only the 'Big Three' remain in the race-Disney Star, Sony Sports and Viacom 18. With consortium bids permitted by the BCCI, Zee will most likely be in a partnership with Sony Sports in the bidding process. One of the conditions of the bidding process is that the cumulative value for a game must not be less than Rs 60 crore, otherwise the BCCI has the right to annul the auction.
The media rights cycle, which includes 88 matches in a nearly five-year period, commences with eight matches against Australia three ODIs in September before the 2023 ODI World Cup and five T20Is in November this year after the mega event concludes on November 19.
In April 2018, Star India had retained the television broadcast and digital rights for all India bilateral and domestic matches for the next five years at Rs 6,138 crore, outbidding Sony Sports and Viacom 18.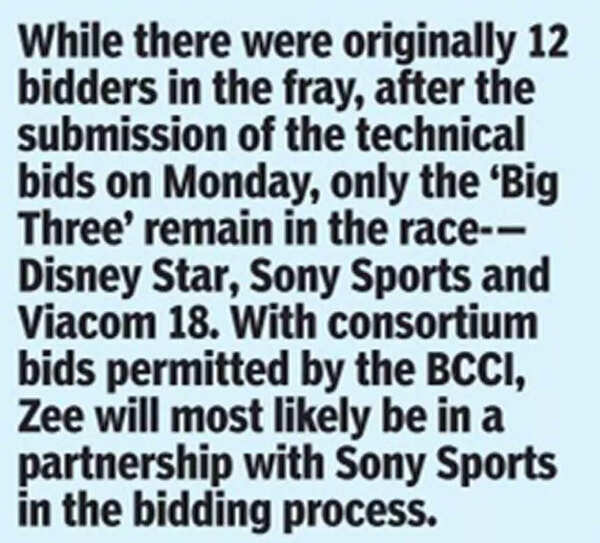 WC captains to assemble in Ahmedabad on October 4
Meanwhile, all the 10 captains of teams participating in the 2023 ODI World Cup will be present at the Narendra Modi Stadium in Ahmedabad for a photo opportunity on October 4. The tournament will begin with a brief opening ceremony on October 5, an hour or so before the opening game between England and New Zealand that day.
"The captains will meet for a photo-op and with the tournament match referees' head, just like they did before the start of the 2023 IPL. Both England and New Zealand have practice scheduled at 2 pm on October 4, so there's no chance of an opening ceremony that day," a source said.