CNN
 — 

For many Americans, the extended Labor Day weekend is an opportunity to reconnect with loved ones, take advantage of sales and, of course, indulge in savory barbecue. Most major retailers will remain open Monday but government buildings, post offices and banks will be closed. The 5 Things team will also take a brief hiatus, so the next weekday edition will be in your inbox bright and early on Tuesday!
Here's what else you need to know to Get Up to Speed and On with Your Day.
Idalia remains a tropical storm as it moves into the Atlantic after bringing heavy rain and wind to northwestern Florida, southern Georgia and the Carolinas. Nearly 95,000 homes and businesses across several counties reported power outages today and many still do not have running water. To complicate matters, officials say murky, waist-high floodwater could be dangerous for days to come. President Joe Biden said that he will travel to Florida on Saturday to see the damage firsthand and pledged long-term support to hard-hit communities. Preliminary estimates suggest the storm caused up to $20 billion in damage and lost output, according to Moody's Analytics, but the full scope of the damage will become more clear in the next two weeks with the release of official estimates of insured losses.
Former President Donald Trump has pleaded not guilty in the sprawling Fulton County election interference case, according to a new court filing. In the case, Trump is charged with racketeering in his alleged efforts to upend the 2020 presidential election results in Georgia. His arraignment marks the fourth time that Trump has pleaded not guilty to criminal charges since leaving office. The former president had been scheduled to be arraigned in person next Wednesday, but Georgia law allows criminal defendants to waive their in-person appearance and enter a formal plea through court filings. Also in Georgia, security concerns are mounting after an inmate was killed in a stabbing at Fulton County Jail this week — the same place where Trump and 18 other co-defendants were booked earlier this month.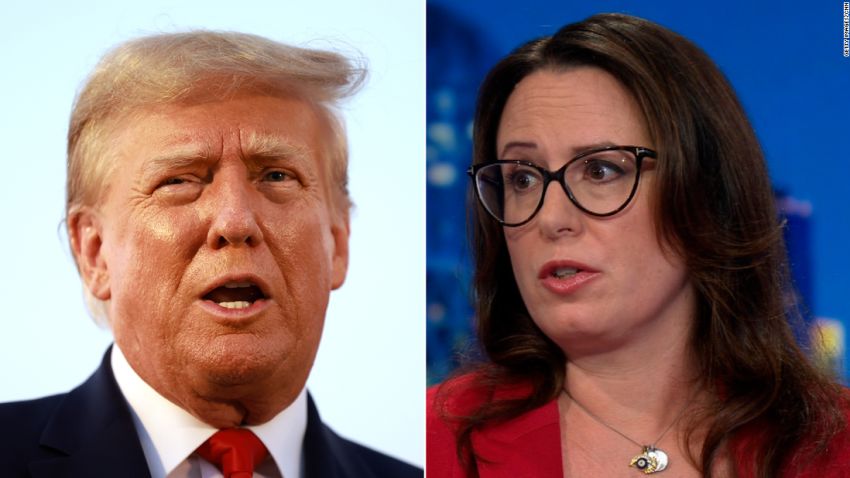 Haberman on what 'struck' her while reading Donald Trump's deposition
Interest on federal student loans will start accruing again today, after rates were effectively set to 0% since March 2020 due to the Covid-19 pandemic pause. Now, interest rates, which are fixed and vary by loan, will return to the same rate they were before the freeze. But borrowers won't need to take any action until their first monthly payment is due. For most people, payments will restart sometime in October — although not everyone has the same due date. Generally, borrowers can expect their monthly payment to be the same as it was before the pandemic pause. Unless a borrower made optional payments or other changes to their account, like consolidating their loans, federal student loans were essentially frozen in time.
The Texas Supreme Court on Thursday dismissed efforts to temporarily block the state's near-total ban on gender-affirming care for minors, clearing the way for the measure to take effect today. The law, known as Senate Bill 14, prohibits most minors from receiving treatment common for gender dysphoria, including puberty blockers and hormone therapy. LGBTQ health advocacy groups called the ruling "a blatant disregard for the human rights and dignities of LGBTQ+ individuals." With the law taking effect today, Texas will join more than a dozen other Republican-led states that have moved to restrict gender-affirming care. Separately, Canada issued a new advisory this week, warning its LGBTQ citizens of the risks they could face when traveling to the US, citing a record number of anti-LGBTQ laws in several states.
Trader Joe's has issued another food recall — its sixth since July. Last week, the grocery chain said nearly 1,700 packages of tamales containing "undeclared milk" were shipped to US stores, potentially posing a risk to shoppers who may be avoiding items containing milk allergens. Texas Tamale Company, which makes the product, said it regrets "any inconvenience or apprehension this incident may have caused." Other foods that Trader Joe's has recalled in recent weeks are its multigrain crackers because they might contain metal, two types of cookies because they might contain rocks, and other recalls for its prepared soup and its falafel.
Oprah Winfrey and Dwayne Johnson launch Maui recovery fund
The powerful duo launched a recovery fund for the people who lost housing in the Maui wildfires. They said in a social media video that all donations will directly go "into the hands of Lahaina residents."
Messi's upcoming match is the most expensive Major League Soccer game ever
Ticket prices for this Sunday's match between Inter Miami and Los Angeles are hovering around $690. For comparison, average MLS ticket prices used to cost $110 before soccer superstar Leo Messi joined the league.
Where is the germiest place in your house?
It might not be where you think! Watch this video to see a CNN reporter test her house to find where the most germs were lurking around.
Burning Man's dramatic tribute to war-torn Ukraine
A 26-foot-tall wooden box was set ablaze at the Nevada festival to reveal a powerful symbol of Ukraine's "rebirth."
US attorney's office files legal motion to block Titanic expedition planned for 2024
The legal battle comes just a few months after a Titanic tourist submersible vessel suffered a catastrophic implosion.
Which 2024 Republican presidential candidate was asked to stop using Eminem's rap songs on the campaign trail?
A. Ron DeSantis
B. Mike Pence
C. Vivek Ramaswamy
D. Chris Christie
Take CNN's weekly news quiz to see if you're correct!
12
That's how many people were injured on a recent Delta flight that experienced "severe turbulence" en route from Italy to Atlanta, the National Transportation Safety Board announced Thursday. The NTSB is opening an investigation after the incident sent several passengers and crew members to the hospital.
"There are hundreds of people on the ground and in the air looking for him right now."
— Chester County District Attorney Deb Ryan, warning that a manhunt is underway in Pennsylvania for a convicted murderer who escaped a prison outside Philadelphia on Thursday. The inmate, 34-year-old Danelo Cavalcante, broke out of Chester County Prison just a week after he was sentenced to life without parole.
Check your local forecast here>>>
AND FINALLY …

Who was the first person to record sound?
If you guessed Thomas Edison, you are mistaken! Watch this short video to learn about the inventor who recorded the first sound that could be replayed.