CNN
 — 

A trial date of March 4, 2024, has been set for former President Donald Trump for his alleged efforts to overturn the results of the 2020 election. This means Trump may possibly be sitting in federal court instead of campaigning ahead of the Super Tuesday primaries set for March 5.
Here's what else you need to know to Get Up to Speed and On with Your Day.
Idalia has strengthened into a hurricane that's expected to hit Florida this week, making landfall on Wednesday possibly as a Category 3 storm. With winds up 75 mph and life-threatening storm surge, the hurricane's latest projected path shows it could deliver a devastating blow to portions of Florida's Gulf Coast. It is expected to make landfall north of Tampa in Florida's Big Bend region, but a small shift in the track could put the vulnerable population center more at risk. Already, Tampa International Airport has suspended all commercial operations beginning today and dozens of schools have closed. Evacuations are in effect in at least 10 counties and all 5,500 National Guard members in Florida have been activated to assist authorities. "This is going to be a major hurricane," Gov. Ron DeSantis said Monday, urging residents to take proper precautions.
A suspect is in custody after a shooting at the University of North Carolina at Chapel Hill on Monday afternoon left a faculty member dead and sent the university with more than 30,000 students into lockdown for hours. The gunman's motive remains unknown at this time and police are still looking for the firearm used in the shooting. The suspect was detained about 90 minutes after the gunfire interrupted activities at the school's Caudill Laboratories, a chemistry studies building. No one else was injured, officials said. At least 49 school shootings have happened in the US this year, including the UNC shooting — 34 have been reported on K-12 campuses and 15 on university and college campuses.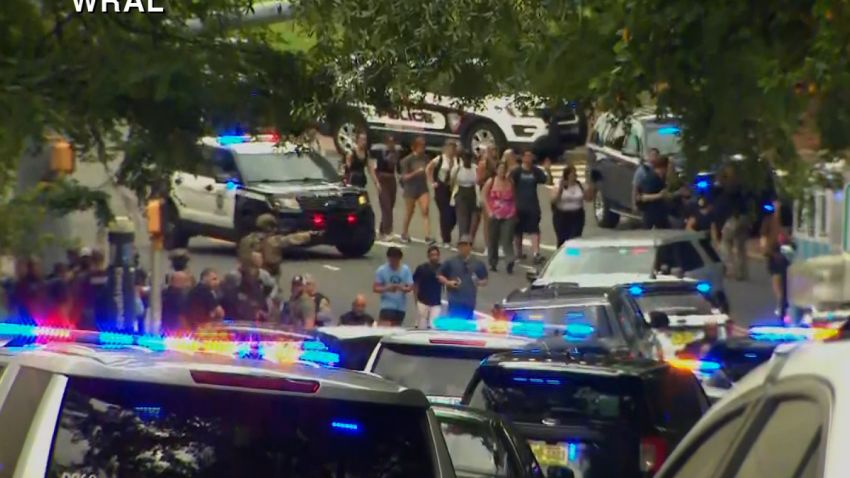 Video shows students walking out of campus after alert about 'armed and dangerous' individual
The utility company Hawaiian Electric said energized power lines seem to have caused a fire during the early morning of August 8, but were not responsible for the afternoon Lahaina fire that killed at least 115 people and destroyed the historic town. The company said the cause of the Lahaina fire has not yet been determined but insists that power lines in West Maui had been de-energized for more than six hours by the time a fire began in the Lahaina area. The utility and the state are still conducting investigations into what happened. Meanwhile, a slew of viral conspiracy videos on social media have made baseless claims that the Maui wildfires were started intentionally as a land grab to make room for multimillion-dollar developments. Social media platforms have taken steps to curb the spread of this misinformation, but some videos appear to be slipping through the cracks.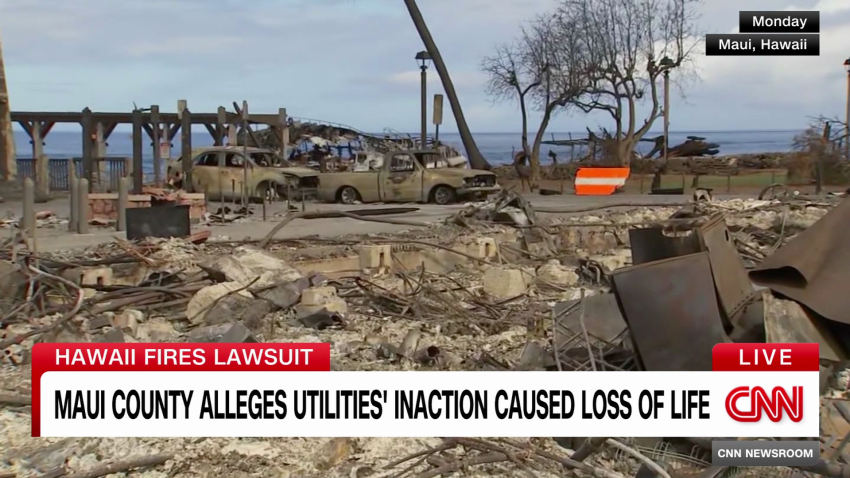 Maui County sues utility company over devastating wildfires
The Department of Transportation has issued its largest-ever fine to American Airlines for keeping passengers waiting on planes during lengthy tarmac delays. The $4.1 million fine was levied on the airline for delays that impacted over 5,800 passengers between 2018 and 2021. In the longest of the delays, passengers sat aboard a plane in Texas for just over six hours. According to federal rules, the maximum time that passengers can be held without the opportunity to get off prior to takeoff or after landing is three hours for domestic flights and four hours for international flights. American would pay more than $2 million of the fine to the government and has been credited for paying the other half in passenger compensation.
Retailers large and small say they are struggling to contain an escalation in store crimes — from petty shoplifting to organized sprees of large-scale theft. This week, Nordstrom closed the doors of its five-story department store in San Francisco after a 35-year run. With Nordstrom's departure, shopping mall operator Westfield said it would give up control of the property, citing "challenging operating conditions in downtown San Francisco, which have led to declines in sales, occupancy and foot traffic." Meanwhile, as sales sink among big retailers, Target has warned it is bracing to lose half a billion dollars this year because of rising theft. Dick's Sporting Goods also recently blamed theft and damaged inventory for its surprisingly poor earnings.
Google Flights reveals the most-searched winter holiday spots
Looking to avoid big crowds this holiday season? Many travelers are flocking to these warm getaway spots and big cities, according to Google Flights.
Move over Wordle, the New York Times might have found its next hit puzzle game
This new game may have what it takes to be the Times' next viral sensation.
The four attachment styles and how they affect your relationships
Understanding your attachment style can help improve your close relationships. Click here to find out whether you identify as anxious, avoidant, disorganized or secure.
Eminem asks Ramaswamy to stop using his music
Republican presidential candidate Vivek Ramaswamy gave an impromptu karaoke rendition of Eminem's "Lose Yourself" at the Iowa State Fair. Now, he's been asked by the Real Slim Shady to stand down.
Amazon raises free shipping minimum for some customers
To qualify for free shipping, non-Prime members typically have to make a purchase over $25. This week, the e-commerce giant bumped that minimum up to $35.
97%
That's the percentage of people in the US that have some immunity to Covid-19 through vaccination, infection or both, according to the CDC. Health experts say it's still important to break out masks in crowded, poorly ventilated spaces and consider updating your vaccines as coronavirus strains continue to morph.
"These Marines served our country with courage and pride."
— US Defense Secretary Lloyd Austin, offering his condolences to the families of three Marines who were killed Sunday in an aircraft crash in Australia. The Marines were identified Monday as Cpl. Spencer R. Collart, 21, Capt. Eleanor V. LeBeau, 29, and Maj. Tobin J. Lewis, 37. An investigation is underway to determine the cause of the crash involving an Osprey aircraft, which had 20 other US Marines on board.
Check your local forecast here>>>
AND FINALLY …

An octopus dreaming
Watch this octopus flash its different color patterns during what appears to be a vivid dream!